Card of the Week: 2006 Bowman Signs of the Future Leon Washington Autograph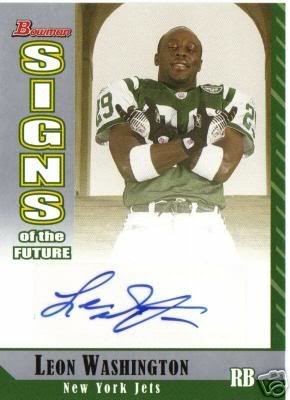 In 2006, Leon Washington's hometown made quite a stir in Bowman football.
His 2006 Signs of the Future autograph featured him appearing to flipping the bird twice*. However, it was later explained that he was making two E's to represent the East side of Jacksonville.
When the "error" was first discovered, the card sale price on eBay jumped from $5-$15 to $100+.
The most recent ended on Jan. 27th for $9.00. This truly shows what hype can do to a card.
*While this gesture appears to be inappropriate, it is not as such. The "gesture" is not condoned by SCF nor we do we encourage its use.
No comments yet.
No trackbacks yet.
about 7 years ago - No comments
By Drew Pelto aka *censored* What is a super collector? Apparently, not me, at least not at Sports Card Forum. The definition of Super Collector varies from person to person. To one person, it's he or she who is trying to collect everything of their favorite team or player. I was that way for a…