Card of the Week: 2008 Topps Heritage Real One Autos Yogi Berra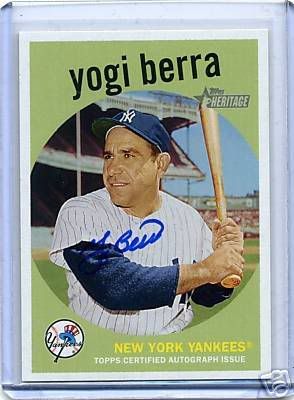 With 2008 Topps Heritage being one of the most anticipated early releases of 2008, it's no wonder that there is over 3,000 listings on eBay right now.This was one of the best cards I could find from the set, and boy is it a nice one.
Topps Heritage has always been known for on-card autographs and they delivered once again.
No comments yet.
No trackbacks yet.
about 7 years ago - No comments
By Drew Pelto aka *censored* What is a super collector? Apparently, not me, at least not at Sports Card Forum. The definition of Super Collector varies from person to person. To one person, it's he or she who is trying to collect everything of their favorite team or player. I was that way for a…
about 10 years ago - No comments
By: Don White Well, as usual I found time to take a few days and head off to the 2007 NHL Draft. So, the wife and I left Thursday morning to get there for the NHL Draft Prospect Clinic where they would be signings autos afterwards (WOHOOO)!! As I drove up there, all I could…
about 10 years ago - No comments
  With Tiger Woods stealing all the hype due to his phenomenal season, Phil Mickelson has been lost under the radar. Phil is probably used to this as he has always followed closely in Tiger's shadow, but coming into the Masters, let's remember who has won two of the four Masters tourneys. That is Phil…
about 10 years ago - 3 comments
  With the passing of National Baseball Card, many collectors have a new set of cards, including Yankees prospect Ian Kennedy. The Yanks are heavily relying on their young rotation to help them to their first World Series since 2003. However, Kennedy's first outing of 2008 didn't look so stellar. He allowed six earned runs on four…
about 10 years ago - No comments
  I was scanning over the most recent Beckett Baseball Plus magazine over Easter weekend, and I for some reason stopped on the 1999 Topps Gallery page. And boy did the memories come back. The 1999 Topps Gallery Heritage was always a set I wanted to complete, but as an 11-year-old, acquiring very popular $20…
about 10 years ago - 2 comments
They've won 21 straight games. And he is the leader of their team. Tracy McGrady is back to his old form. And he is experiencing a spike in card demand. As the Rockets go into a rugged five game stretch, one has to wonder if they can continue the streak. I would say that is…
about 10 years ago - No comments
A Jon Smoltz card has been discovered in 2008 Topps Heritage as a very short printed variation. That being said, Heritage master set builders aren't happy. Many are frustrated that Topps puts in these rare variations to make their lives more difficult.However, I don't follow their logic. The point of building sets is the chase…
about 10 years ago - No comments
While it did not gain the $80 book value that the Daisuke Matsuzaka card from the set did last year, the Kosuke Fukudome Upper Deck Ovation is now regarded as the second best card from the series. Signed to a four year, $48 million contract by the Chicago Cubs in the offseason, Fukudome's card hit…
about 10 years ago - No comments
In 2006, Leon Washington's hometown made quite a stir in Bowman football. His 2006 Signs of the Future autograph featured him appearing to flipping the bird twice*. However, it was later explained that he was making two E's to represent the East side of Jacksonville. When the "error" was first discovered, the card sale price…
about 10 years ago - 1 comment
As the 2008 Hall of Fame voting comes upon us, one can wonder if a derserving candidate will finally get his due. And I'm not talking about Goose Gossage.  I'm talking about Bert Blyleven.  Nevermind his sometimes questionable demeanor, Blyleven was still one of the top pitchers in baseball in the 1970s and 1980s despite…