Companies Use Trickery to Promote 2008 Brands
By: Andrew Harner, Editor-in-Chief
Around this time last year, the big buzz in the trading card world was the 2007 Topps Derek Jeter card with Mickey Mantle and George W. Bush super-imposed in the background.
Earlier in the week, another peculiar card was discovered in the 2008 Topps set. It was the Boston Red Sox team card. On this card, the team is celebrating its World Series win with former New York City mayor Rudy Giuliani.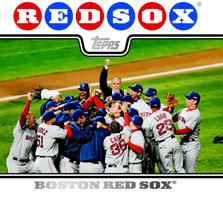 Now how did this one happen?
Last year before the World Series, Giuliani, an avid New York Yankees fan, jokingly said that he would root for Boston because he is an American League fan.
Topps took his joking statements and turned it into a real trading card.
The card, reportedly seeded 1 in 70 packs, is number 234 in the set and has been consistently selling for about $15-$20 on eBay. But, if you wait for the media drive to slow down it probably will be able to be had for around $5 just like the Jeter card.
There is another tough pull in 2008 Topps besides the Giuliani however.
Topps card #FS1 is also creating s smaller buzz around the hobby circles. The card is of Japanese high school phenom Kazuo Uzuki.
Uzuki, or The Uzi, is most known for being invited to the WBC tryouts when he was just 14 years old. Not only that, he struck 17 batters in 7 innings during an intrasquad game.
Today, he possesses a 104 MPH fastball and is expected to make the jump from high school to MLB in 2009.
Early sales on the card are averaging around $10-$15.
But Upper Deck also wanted a piece of the pie.
A Presidential Predictor set was randomly inserted into packs of 2008 Upper Deck Series I. The cards feature cartoon drawings of famous baseball moments with the presidential candidates' faces instead of the baseball player's.
Some of the notable cards include Democratic hopeful Barack Obama with Jermaine Dye, Republican frontrunner John McCain as Ted Williams, Giuliani as Jeffrey Maier, and Mitt Romney as Carlton Fisk when he waved the ball fair.
However, the most famous card of the set is Hillary Clinton. She is featured at home plate kissing Morganna the Kissing Bandit in light of Bill Clinton's famous scandal.
So far, only four of these cards have hit the secondary market after Upper Deck had to remove the card by hand after they determined the artwork would be controversial and possibly deemed as inappropriate.
At the time of this post, there are four on eBay with a high bid of $1,125, Buy-it-Now of $729 and $1,499, and a second regular auction at $255.
The company says they are unsure how many of the cards slipped through but do plan on creating a normal Clinton card for series two.
The set itself has good intentions though. Starting on Feb. 25, collectors can enter the codes on the back of each card in hopes of winning the top prize of throwing out the first pitch at a 2009 MLB game.
Other cards in the set include Fred Thompson as Babe Ruth, John Edwards as Moonlight Graham from Field of Dreams, and Al Gore (Jose Offerman) and George Bush (Chuck Knoblauch).
It is hard to say if there will be anymore political trickery leading up to the election, but if there is too much more, this concept will get old fast.
No trackbacks yet.
about 7 years ago - 6 comments
By Karine Hains Collecting used to be a hobby, it used to be all about fun but lately it just seems like it is a big business which is solely about the money. Personally, I collect two players Patrick Roy and Martin Brodeur. For the hockey fans amongst you, you are very well aware of…