SCF Official Product Review: 2008 Press Pass Eclipse
Thanks to the wonderful folks at Press Pass, we are able to do a break/review of 2008 Press Pass Eclipse. Break done by Enigma.
Product Description
:20 packs per box, 5 cards per pack
SRP: $134.99-$139.99 per box2008 Eclipse offers a 90-card base set with two foil parallels, Gold (#/25) and Red (#/1). The Red parallel is Hobby-exclusive, meaning they were not inserted into retail packs. We were fortunate enough to put together a complete base set with the box and the box yielded one Gold parallel. Also, Press Pass likes to put in variations of some base card to give collectors added fun when put a set together. We did manage to pull one of the known variations, the Back To The Future Dale Earnhardt Jr. with him pictured in the car instead of a child photo.
The look of this year's release is nice, but not eye-popping. The black background really makes it hard for scanning purposes. However, it does keep focus on the driver or car pictured on the card, which is always a plus. Definitely a wise choice if looking for a set to display.
The inserts this year are Stellar (1:2 packs), Escape Velocity (1:6 packs), Hyperdrive (1:12 packs) and Star Tracks (1:18 packs). There is a Hobby-exclusive version of Star Tracks with those cards #/250, which we did pull one. For those that do not know, Star Tracks are made utilizing an actual race-used tire to enhance the design the of the card. It has a rough feel, but is really nice to view. Personally, I enjoyed the rainbow foil effect of the the Escape Velocity cards, but I think the shiny color background of the Hyperdrive cards was overkill and not eye-pleasing.
On a hobby box of Eclipse, it states that you can expect 2 memorabilia cards and 1 autograph on average. The memorabilia cards offered in Eclipse are from the car covers used at races to protect the cars while outside at a track. The sets are called Under Cover (one swatch) and Double Cover (two swatches, one each from teammates) and there are four types of die-cuts (Drivers, Drivers Eclipse, Drivers Name and Drivers NASCAR). There are Hobby only holo-versions numbered to #25. Eclipse also offers an Under Cover Signature Series, which has a piece of the car cover along with an auto and the cards are numbered to the driver's door number. This is a definite must-have for any driver collector. The odds on pulling a car cover card is 1:10 packs. We pulled two of these cards out of the box.
Autographs are seeded 1:20 packs on average. There is a regular auto that is only offer in 2008 Press Pass and 2008 Eclipse, called Press Pass Autographs. There are Press Plate Autos, 4 for each driver, obviously numbered to 1 for each card. Then there are Teammate Autos which could have between 2-4 drivers on them, numbered to 35 or less. We broke the bank on this by pulling 4 different auto cards! Two of the auto cards actually came in the same pack!
One other card offered in Eclipse is called Four Wide. It contains four pieces of race used memorabilia (sheet metal, tire, car cover and an oversized firesuit swatch). These are numbered to 50 per driver. Exclusive to hobby boxes will have a checkered flag swatch as the oversized piece and the cards will be numbered to 1. Unfortunately, we were not fortunate enough to pull one.
Overall Break:
Base – 90/90 (100% complete)
Missing/Needed – 0
Dupes – 7, including one variation
Gold Parallel (#/25) – 1, G80 Jeff Burton
Red Parallel (#/1) – 0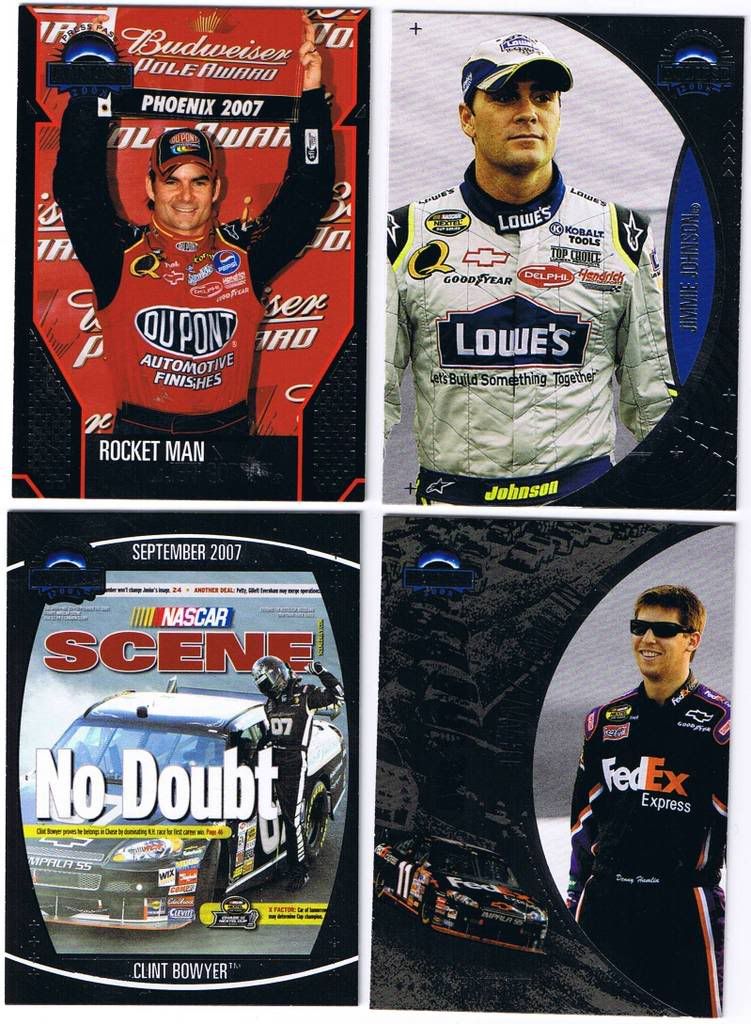 Inserts:
Stellar (1:2) - 12, S1 Jimmie Johnson, S4 Tony Stewart, S5 Kurt Busch, S9 Kevin Harvick, S10 Denny Hamlin, S14 Juan Pablo Montoya, S15 Kevin Harvick, S18 Denny Hamlin, S19 Clint Bowyer, S20 Kasey Kahne, S24 Mike Skinner, S25 Ron Hornaday
Escape Velocity (1:6) - 4, EV1 Jeff Gordon, EV2 Michael Waltrip, EV5 Jamie McMurray, EV9 Kevin Harvick
Hyperdrive (1:12) - 2, HD2 Mark Martin, HD6 Kasey Kahne
Star Tracks (1:18) - 1, ST7 Kevin Harvick
Star Tracks (#/250) - 1, ST2 Matt Kenseth
Race Used and Autos:
Under Cover -1, Jeff Gordon Driver Series (orange, #/150)
Double Cover - 1, Jeff Gordon/Jimmie Johnson Driver Series (orange/black, #/99)
Four Wide - 0
Under Cover Signature Series - 0
Press Pass Autographs - 2, Kurt Busch and Jon Wood
Teammate Autographs - 2, Kurt Busch/Ryan Newman (#/35) and Elliot Sadler/Kasey Kahne Redemption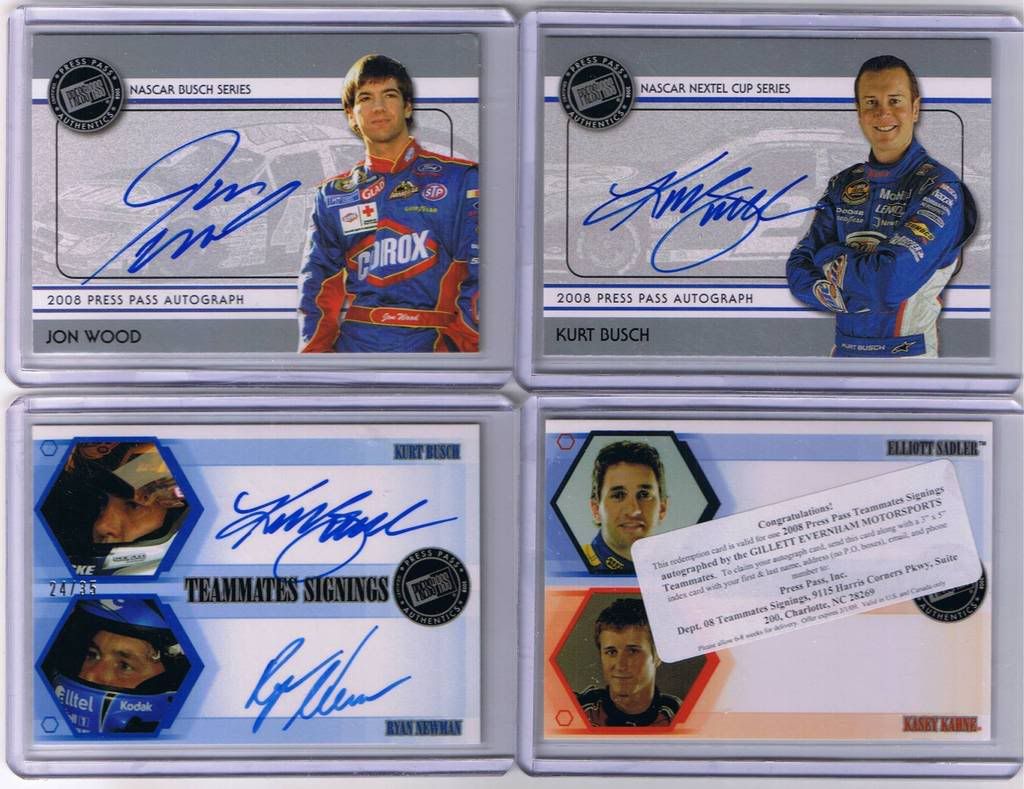 Final Ratings (Out of 5):
Base Set – 4.5
Fun – 4.5
Overall Design – 4.0
Value – 4.5
Rebuy – 4.5
Final Grade – 22/25 (88%)
All base and regular inserts will be available to all SCF members. You can request up to three base cards or one insert. You will be expected to send a SASE for these cards. It is also requested that if you can, please send a top loader and a penny sleeve to accommodate the card(s). To request cards, simply PM me the card number(s) you wish to claim. These are first come, first served.
The autos, race used and numbered cards are not available. They will be used as rewards via contests, the card cash store or possibly to the hard working staff members.
Once again, on behalf of SCF, I would like to thank Press Pass for providing us with this box of 2008 Press Pass Eclipse.
No trackbacks yet.
about 10 years ago - No comments
Set as Part of VIP Gift Package Jeff Gordon, Dale Earnhardt Jr., Tony Stewart, Jimmie Johnson, Kyle Busch & Carl Edwards Highlight Press Pass Set! Press Pass has announced that they have created a NASCAR Exclusive 6-card set for 29th National VIP's.  All National VIP's will receive this Press Pass set which features NASCAR's biggest…