SCF Official Product Review: 2007/08 Bowman Sterling Basketball Hobby Pack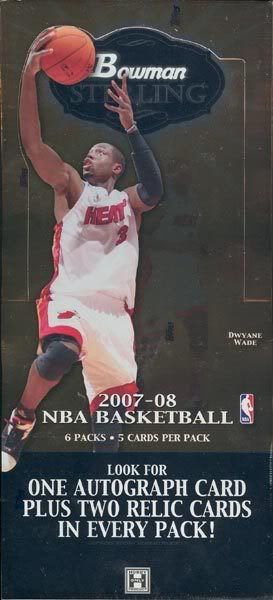 Break by Enigma. 
Thanks to the wonderful folks at Topps. We have the privilege of doing a product review of 2007/08 Bowman Sterling Basketball as they have provided us with a pack of this product.
Product Description
SRP (Suggested retail price): Between 225.99-229.99
6 packs per box, 5 cards per pack
Bowman Sterling packs normally contain one auto, two relics and two rookie cards. The full box usually yields three auto/relics, three autos, 12 relics, 24 rookies and a rookie box loader.
This year, the rookie cards feature only 10 players from the 07/08 rookie class. You get two per pack, normally one base rc and a parallel rc. There are 12 parallels of the rookie cards ranging from being numbered to 399 all the way down to a 1 of 1. Actually, there are three 1 of 1s (Red, Gold and Black Superfractors).
Our pack contained a base rc and a regular refractor.
There are five types of autographed cards this year that are seeded one per pack. First is the rookie autos. Only 15 rookies were selected for this, one per box. Besides the base rookie auto, there are four parallels (Refractor #/50, Black Refractor #/25, Gold Refractor #/10 and the coveted Red Refractor #/1).
Next are the Rookie Autograph Relics. A total of 30 rookies were selected for this series, seeded two per box. The parallels run at the same rate as the regular rookie auto.
Veterans and retired players were grouped together for our next series. The Veteran/Retired Auto Relic series combines 20 of the top current and former NBA stars with a signature and relic on the same card. These were seeded one per box, and the parallels run like the rookie auto.
Dual Autograph Relics are a 20 card series that combine rookies, veterans and legends in various combinations. They are seeded at one per four-box half case. Parallels are offered as followed:
Red Refractor – #/1
Gold Refractor – #/3
Black Refractor – #/5
Refractor – #/10
Rounding out this group is a brand new set to Bowman Sterling, Rookie Auto Letterman Patches. 29 of the hottest rookies in the NBA signed the nameplate patches on their jersey to create more than 900 Autograph Letter Patches. These were seeded at one per eight-box case.
At two per pack, the box is loaded with relic cards. There are 10 rookie relics and 40 veteran/retired relics. The parallel versions are as follows:
Red Refractor – #/1
Gold Refractor – #/25
Black Refractor – #/99
Refractor – #/199
And in true Bowman Sterling fashion, the highly sought after box loaders return at a rate of one per box. There are 14 rookies that comprise this set with parallel versions matching the breakdown of the relic cards.
Overall Break:
Base RC – Al Horford
Refractor RC – Al Horford (060/399)
Veteran Relic – Kobe Bryant Jersey
Veteran Refractor Relic – Joe Johnson Jersey (072/199)
Veteran Relic/Auto – Ray Allen Jersey/Auto (155/190)
Final Ratings:Base Set – 4.25
Fun – 4.5
Overall Design – 5.0
Value – 4.0
Rebuy – 4.25Final Grade – 22/25 (88%/B+)
It's really hard to judge a product based on one pack, but I did enjoy what came out of the pack. It was nice to see that we got an auto/jersey instead of just an auto as they are one in every two packs. Bowman Sterling is a fun product to open, though it usually doesn't give back in the money/resell department.
All cards will be going to our prize vault as this was an individual pack break.
On behalf of SCF, I would like to thank Topps for providing us with this pack of 2007/08 Bowman Sterling.
No trackbacks yet.
about 6 years ago - No comments
By JP Bogardus aka KD35Russ0 Can the Big 3 from Miami thrive in the clutch? Can the young guns from Oklahoma City win big games against experienced teams? Can the defending champs regain their form? Do the Spurs have one last run in them? Will Kobe or Derrick Rose put their respective teams on their…