A Set with a Difference
We all know that the hockey card market is largely dominated by the giant that is Upper Deck. However in the last few years, In The Game has been making ground rapidly and is gaining more and more popularity. Their Heroes and Prospect, Oh Canada and Between the Pipes products have received great reviews. Always trying to innovate, ITG has released on April 30, 2008 a new set called Superlative. What is so special about it you say? Well for starters it is quite the high end product as illustrated by the price (check below), but also, the set only includes inserts, no base whatsoever. Now if that isn't a collector's dream what is?
A quick look around the net immediately shows that the set is not for everyone. While most people would love it, there is the small matter of being able to afford it. At DaCardWorld one box (each box contains 7 cards) is priced at $457.90, at Blowout Cards it fetches $441.99 and on eBay I found one box at $445.00 and one at $437.99. Needless to say, this is not an ideal price for most collectors, but for those who have had a taste of the higher end products and like to invest, it is a viable option. Or if you can't afford to shell out that much on your own, you may want to consider a group break. This is a great way to get in on the action at a reasonable price. I myself enjoy taking part of this on Sportscardforum.com. Here is an example of such a thread for this particular product: group break.
As for what the set actually includes, well there are 7 different insert sets; Game-Used Jersey Cards, Superlative Prospect Autographed Game-Used Jersey Cards, Autographed Game-Used Jersey Cards, Game-Used Patches, Autograph Cards, Special Insert Cards and Famous Fabrics Cards.
The Game-Used Jersey Cards set includes 75 different cards including 30 copies of the silver version and 10 copies of the gold version. The memorabilia piece is large and players featured in the set include Roy, Price, Staal, Hasek and Ovechkin to name a few. Quite a representative sample and the complete checklist can be found here .
The Superlative Prospect Autographed Game-Used Jersey Cards set comprises 50 different cards and the silver version has a print run of 50 and the gold one stands at 10. Interestingly, the set includes prospects already in the league as well as prospects who have yet to be picked up. You can therefore find Sam Gagner as well as John Tavares. Again a great selection and the checklist can be found
here
.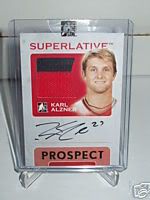 The Autographed Game-Used Jersey Cards set has 50 different cards to offer and the print runs of the silver and gold version are 50 and 10 respectively. Again, the set covers a wide range of athletes from the past and the present although this one doesn't look to the future though as the prospect set has it covered. You can find the full checklist
here
.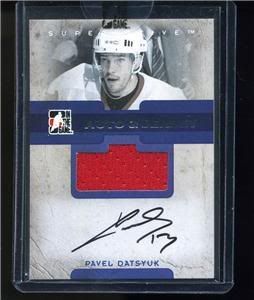 As for the Game-Used Patch Cards set, it includes 75 different cards and has a lower silver print run of 30 while the gold print run still stands at 10. A few players are included more than once in this insert set. You can pick up two Thornton patches (one with Boston and one with San Jose), two Brett Hull (one with Dallas and one with Detroit), Luongo, Roy, Jagr and Bourque are also in the same dual team situation. Have a look at the checklist here.
The Autographed Cards set includes 50 different cards with a silver print run of 50 and a gold print run of 10. The interesting point about these cards is that the autographs are hard signed, straight on the card, no sticker non-sense. This comment applies to all autographs in the product, but it is particularly relevant here as the autograph is the card's main feature. You can see which players have signed cards here.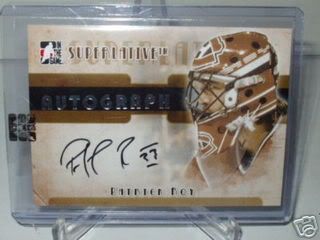 The Special Inserts set is where we get to the really interesting part. There are 12 different sets of special inserts: Get Real, Stick Rack, Autothreads, Past Present and Future, Jumbo Emblem, Complete Jersey, Enshrined, Quad Patch, Starting Line Up, Superlative Season, Superlative Season Trophy Winners, Superlative Season Rookie/Retired and finally Nameplates. Each of these set either has nine hand numbered silver versions and a 1/1 gold version or are all 1/1. Check all of these out here.
Last but not least, the Famous Fabrics Cards set. Again there are a number of these sets, 11 to be exact. They are: Big League Debut, 300 Wins, 500 goals, Vezina Winners, Norris Winners, Calder Winners, 1st Overall, Record Holders, Art Ross Winners, Holy Grail and 1000 Points. Each of these sets has got nine hand numbered silver versions and a 1/1 gold version. See all of these checklists here.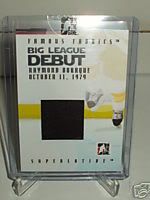 Well there you have it, a complete preview of what you risk getting if you decide to get one of these boxes. To me, this product looks awesome, and I cannot wait to get my hands on some of these cards. I am now off to watch the YouTube video of my group break, and I will post a review of this break in the near future. Watch this space!
No trackbacks yet.
about 4 years ago - No comments
By RGM81 aka Richard McAdam On Saturday, June 22nd, Players Choice Collectibles in beautiful Kelowna, British Columbia, hosted their second ITG Cross Canada Tour event. Having previously had a very successful event in 2010, owners Dean Draginda and Jason Wobshall were excited to deliver the goods again to collectors in the Okanagan. As with all…