Product Preview: 2008 SPx Baseball

SPx baseball is one of the first "higher end" products released each year from the baseball crop.
Listed on Upper Deck's website for release tomorrow, SPx again will again satisfy collectors of the product.
With a new base design prominently featuring a player photo in the center of the card, the always unique SPx base design delivers again.
The always popular Winning Materials and all of its parallels return in 2008. With three tiers of cards and a Trios version that all have parallels, building a master set of even one player will be a difficult task to master.
2008 SPx Baseball Hobby Box:
10 packs per box, 3 cards per pack
One autographed or relic card per pack on average
One patch card per box on average
Chance at Ken Griffey Jr. or Babe Ruth 1/1 inserted two per case
Three rookie autograph cards on average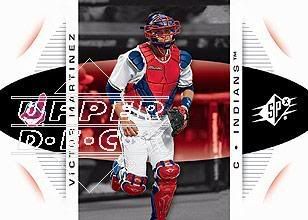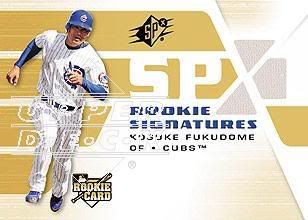 Base Set:
100 current MLB stars on die-cut cards (1-100)
50 Rookie Signatures (101-150)
Inserts:
Ken Griffey Jr. American Hero (100 cards following Griffey's career highlights)
Mystery Rookie Redemption Cards (2 per case)
Relics:
Ken Griffey Jr. American Hero Memorabilia – Parallel to Griffey Jr. American Hero insert set /25.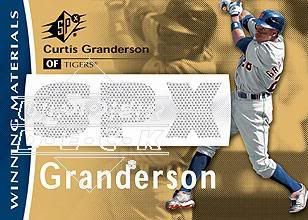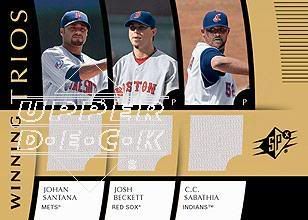 Winning Materials – 100 card set featuring jersey pieces and numbered to 150. Comes in many parallels including Winning Materials 2 /50, Winning Materials 3 /15, Winning Trios /75, Winning Materials Parallels /125 or less, Winning Materials 2 parallels /35 or less, Winning Materials 3 Parallels /10 or less and Winning Trios Parallels /25 or less.
Winning Materials Patches – Patch variations of the Winning Materials jersey cards numbered to 99. Comes in Variation /50, Winning Materials 2 Patch /50 (Variation /35), Winning Materials 3 Patch /15 and Winning Trios Patch /25.
Autographs: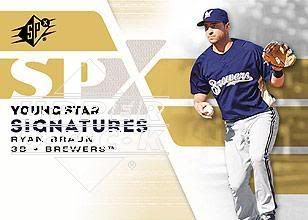 SPx Young Star Signatures – Autographs of 35 of the brightest young stars in the MLB including Ryan Braun, Phil Hughes, Justin Verlander and Cole Hamels.
SPx Super Star Signatures – Autographs of 15 of the best established MLB stars including Derek Jeter, Ken Griffey Jr. and Daisuke Matsuzaka.
Winning Materials Autograph Parallel – 46 Winning Materials autographed cards numbered to 20.
Winning Materials Three Autograph Parallel – Winning Materials triple autographed cards numbered to 10.
Ken Griffey Jr. American Hero Auto Parallel – Autographed Griffey cards numbered to three.
American Heroes and Legends 1/1s: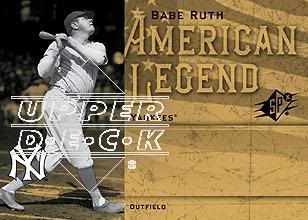 Babe Ruth American Legend (100 cards)
Ken Griffey Jr. American Hero Parallel (100 cards)
See images of all cards in each of the sets pictured above at Upper Deck's website.
No trackbacks yet.
about 6 years ago - 6 comments
By Karine Hains Collecting used to be a hobby, it used to be all about fun but lately it just seems like it is a big business which is solely about the money. Personally, I collect two players Patrick Roy and Martin Brodeur. For the hockey fans amongst you, you are very well aware of…