Who's Hot?
Yes, it's playoff time again! The excitement of the chase for Lord Stanley's Cup is on once more. With only eight teams left chasing the precious trophy, each and every one of those teams' supporters is starting to think: "…maybe it could happened…why not someone has got to win it!?!" The late nights, the heated discussions about the legality of a hit, the wonder that was a particular save or Sean Avery's antics, those are all worthy topics that make spring time so special to me. For the playoffs to be a success though, one thing is essential: the teams playing their hearts out, and with that, the MVPs stepping up. So, who would you say has been hot so far this post season?
Pittsburgh Penguins
In Pittsburgh, youth is king, and the incredible duo of Sidney Crosby and Evgeni Malkin has really been outstanding in the first round against the Senators. In five games so far, Crosby has 10 points (that's right two points per game, pretty impressive), and Malkin also stood tall at nine points in five games, just shy of the two points per game average. These two guys have been some of the hobbyist's favourites over the last few years, and I really can't see the love stopping considering the performances they contine on delivering. At the other end of the ice, Marc-Andre Fleury is also having a great post season so far. In five games, he has five wins including one shutout, 1.81 goals against average and an impressive save percentage of .934. Yes the Pens look like they mean business this year, could they go all the way? Time will tell, but in the meantime, if you are serious about your hockey collecting it would probably be wise to have a few cards of these guys in your PC because chances are, they will have remarkable careers and their cards will turn out to be a great investment.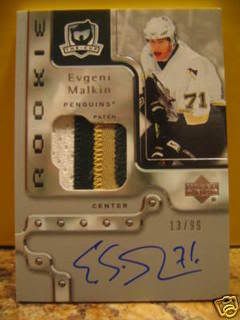 Montreal Canadiens
Still in the Eastern conference, the Habs having finished at the top of the conference in the regular season took on the 8th seeded Boston Bruins in the first round. At the start of the series, the Habs appeared to be missing their captain Saku Koivu, who came back for the last two games against Boston, and what a comeback it was. In four matches so far, Koivu has managed to get six points. An inspiration to his teammates, he leads by example. It's especially nice to see this as a lot of fans in Montreal have been saying in the last few years that Koivu lacked the qualities of a real leader and would never lead their beloved Habs to the ultimate goal. Sure he hasn't done it yet, but his performances this year will go a long way towards making the critics reconsider their position. Two other players have also been making waves for the Canadiens this postseason. Alexei Kovalev is carrying on after an outstanding season with nine points in nine games for the Russian, and you can tell that he is playing with both passion and hunger. The veterans are not the only ones contributing however, and Sergei Kostitsyn is also making his mark in his first playoffs appearance with seven points in nine games. He has been able to generate great offense linking up with his brother Andrei. It could be wise for collectors to hang on to his rookie cards as he clearly seems to have potential.
New York Rangers
In New York, the big guns are firing with regularity, Jagr is on top of his game and he has 10 points in six games. He put up great numbers against the Devils and was a big part of the reason why they were sent packing so early. It will be interesting to see what he can do against Marc-Andre Fleury since he is on top form right now as discussed above. Now, I cannot believe what I am about to say here, but Sean Avery is also hot in this years' playoffs. With six points in six matches, six penalty minutes and 40% shooting percentage, he is most certainly making an impact. Let's face it, who has not heard of his work against Martin Brodeur? He clearly got under his skin by being quite creative in his screening of the Devils' goalie. For Brodeur to refuse to shake his hand at the end of the series, well, he must have done something right. The beauty of Avery is that as well as being a pest, he really can play. Not only is he going to disturb you, but once you have lost your concentration, he will shoot and score. I really am not a fan of this guy, but I just have to salute his work so far as he truly is doing it all for his team. Of course, I am not going to tell you to start collecting Avery's cards as I do not see them getting anymore valuable, but keep an eye out for this guy, like him or loathe him, you will talk about him!
Philadelphia Flyers
The Flyers did not get an easy match-up in round one, nevertheless, they managed to show Ovechkin the way to the golf course. A big part of the reason why they managed that feat was Daniel Briere's performance. Currently comfortably installed at the top of the scoring list, Briere has got 12 points in nine games so far, including the game winning goal in game two against Montreal. This is even more impressive considering that the Montreal crowd has done its very best to put him off his game with generous booing, retaliation for his decision not to sign with the Habs last summer. Far from putting him off his game, it only seems to have angered the beast so to speak. Will he keep it up for the whole series? No way to know at this stage, but he is sure making a case for himself as an MVP shall the Flyers go deep!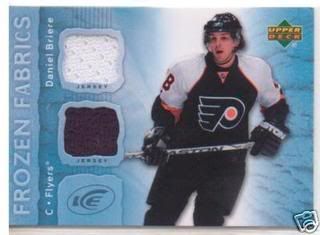 Well that's it for now, my personal eastern favourites so far this post season. I will cover the West in a future article as I must confess I have been paying much more attention to the action in the East than in the West, I need to my homework before reporting!