2007-2008 O-Pee-Chee Premier Product Review
Description: In the early 90s O-Pee-Chee Premier was both quite popular and quite valuable. However, after one outing in 1994-95 it disappeared only to be brought back in 2007-08 with an overhauled design and as a rather high end product. With OPC now being the property of Upper Deck, it is unsurprising to find out the set has all the glitz and shinny finish of a standard Upper Deck release.
Each base card features a picture of the player in action bordered by the slick OPC Premier pattern and includes the name, position and number of the player. As with most sets, the background color varies, depending on which team the player belongs to. The base set includes 100 cards, and to have the complete set, you would need to buy a significant number of boxes as only one of the base cards is found in each box. Interesting fact to note, each base card has a limited print run of 299.
Box Details
Pack per box: 1
Cards per pack: 5 (unless a base parallel is included which brings the total to 6 cards)
Base Set: 100 cards
Price:$141.99 to $179.99
Check out Upper Deck's Official Product Information
Checklists
All of the cards below were pulled during our box break and represent a fair sample of what you can expect shall you decide to buy a box.
Base and Parallel

As discussed above, the base cards are rather nice looking and sure to get the attention of wealthy set builders. In our box we pulled the standard base card as well as a parallel:
Grant Fuhr #31 149/299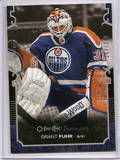 Jordan Stall Gold Parallel #72 57/75
Memorabilia Inserts

Like many of the latest years products, this one is quite heavily orientated on memorabilia. Single pieces of game-used jerseys seem to have lost the favour of collectors, so at a minimum with this set you get three pieces of jersey as discussed in the checklists above. This makes for nice looking cards. Furthermore, it doesn't stop with simple swatches, some of the Remnants are cut to spell words such as nicknames or team names. This is a neat idea and makes the cards just that little bit more special. Also, as it is pretty standard in the latest products, plenty of the memorabilia inserts are autographed, and as this is a high end product, the signatures are of course hard signed. In our box, we pulled two memorabilia inserts:
Martin Havlat Rare Remnants Quads PR-MA 19/25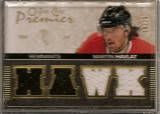 Tyler Weiman Rookies Auto Quad Jerseys 118/299
 OPC Premier Stitchings

The Premier Stitchings were marketed more of less as the flagship of the product. Some people like them, some people hate them. Fans, like myself, think they are an original addition and are not worried about the haters arguments that these are not game used. Realistically, game used items are becoming more and more the norm in the hobby and have lost some of their attraction anyways so why complain about a new direction for the hobby? Those manufactured patches commemorate events, accomplishments or nicknames and have many parallel or variation versions. In our break, we pulled one stitching:
Cyclone Taylor OPC Premier Stitchings Variation PS-CT 16/99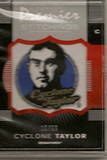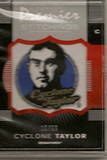 Autographs

Hard signed autographs are also part of this release, and alongside with the memorabilia autographed cards, you can also pull Original Six (single autograph from players of the original six teams), double, triple and quadruple signatures. Our box contained the following:
Jarome Iginla/Rick Nash OPC Premier Duos Signature PP2-IN 39/75
Final Ratings

Overall Design: 5/5
Value: 4/5
Fun: 5/5
Rebuy: 4/5
Variety: 5/5
Final Grade: 92%
Overall, this was a thoroughly enjoyable break although like most high-end breaks, it was over too quickly. As I said before, I am a fan of the Premier Stitchings idea, but not everyone is of the same view; this can be observed quite easily by searching for these on eBay as most of them sell for quite low prices. As I am not in this for the money, I am pleased with this current situation and have already acquired three of the Roy Stitchings. I think Upper Deck made a really good move by bringing back the OPC Premier brand, and it is giving yet another high end option to collectors. While these will be no doubt please, there is always a concern more and more present on the various board that Upper Deck only cares about the money and is forgetting the average collector who cannot afford to spend $150+ for a mere six cards. However, if you are one of the lucky ones who can indeed spare the cash, I would definitely recommend this product!