Sportscardforum's 2008 Allen and Ginter Review
Break and review by Meuandthelot
Here's our review of 2008 Allen & Ginter Hobby. As always a BIG THANK YOU to the fine folks at Topps for allowing us the opportunity to review their great products!
Expected Hobby Box contents:
Two Autographed, Relic, Printing Plate or Allen & Ginter Original Cards Per Box!
One Hobby Exclusive N43 or Cabinet Card Per Box!
One HOBBY EXCLUSIVE Rip Card Per Case!
*NEW! The Ginter Code – Collectors Must Crack the code for a chance to win! You'll get your very own card in next years release!
*NEW! Allen & Ginter Ancient Icon Cards!
• *NEW! Baseball Icons Cards, featuring all-time greats such as Ty Cobb, Lou Gehrig and Jackie Robinson!
Standard price for 08 A&G Hobby Box: $80-$86
Brief History:
The original Allen & Ginter Cards debuted in 1887, they were also the first nationally distributed cards. Due to their diverse subjects, from various leaders and champions of just about anything competitive they quickly became sought after pieces as evidenced by how many were & are found in a wide variety scrapbooks and collections.
Well, over 100 years later not much has changed (sans the distribution) Allen & Ginter still appeals to sports collectors & non-sport collectors alike, plus just about any age group can find something of interest or that relates to a time in their life.
Allen and Ginter set composition breakdown:Visit Topps.com for the products Sell Sheet-Here
Base Set:
Contains 350 subjects(20 new horizontal & action shots in 08′)
-274 Baseball Veterans
-32 Baseball Rookies
-24 Historic Figures
-20 World Champions
Box Topper: 1 per box
15 Allen & Ginter N43s
10 Allen & Ginter N43 Relics – numbered to 25
10 Allen & Ginter N43 Autographs – numbered to 15
5 Allen & Ginter N43 Autograph Relic – numbered to 5
10 2007 Cabinet Box Loader
The Mini's and odds of finding them:
350 Allen & Ginter Wood Card Parallel – Hobby Exclusive – numbered to 1
350 Allen & Ginter Framed Cloth Card Hobby Exclusive – numbered to 10
350 Bazooka Back Parallel – numbered to 25
350 Allen & Ginter No Number – limited to 50
350 Allen & Ginter Black-Bordered Parallel ~1:12
350 Allen & Ginter Back Parallel ~1:5
350 Allen & Ginter Parallel ~1:2
5 Pioneer's of Aviation ~ 1:25
Dangerous Sharks N/A
HOBBY EXCLUSIVE RIP CARDS: 1 per case
100 Collectible Rip Card Exteriors – numbered to no higher than 99
- 160 Rip Card Interiors
30 – Dick Perez Original Sketches – numbered to 1
30 Allen & Ginter Red Autographs – numbered to 10
50 Allen & Ginter Mini Exclusives
50 Allen & Ginter Mini Wood Exclusives – numbered to 1
Inserts:
60+ Allen & Ginter Autographs
60+ Allen & Ginter Relics
8 Allen & Ginter DNA Relics – numbered to 1
100 Allen & Ginter Originals
350 Allen & Ginter Mini Parallel Printing Plates – 4 different colors – 1400 cards total – each is a 1-of-1
50 Allen & Ginter Extra Minis Printing Plates – 4 different colors – 200 cards total – each is a 1-of-1
50 Allen & Ginter World Leaders 1:12
50 Allen & Ginter U.S. States 1:1
20 Allen & Ginter Ancient Icons 1:48
17 Baseball Icons 1:48
20 Cut Signatures – numbered to 1
20 The Ginter Code
*NOTE*
Redemption cards expire 7/31/2010
OK.. For those of you contemplating a complete master set, buckle up…there are 3,747 total cards that would need to be obtained!! Although for the purists, a very impressive 700 card main set which would include the base regular and their mini counterparts should suffice quite nicely.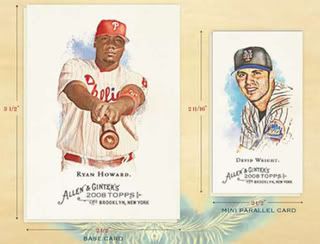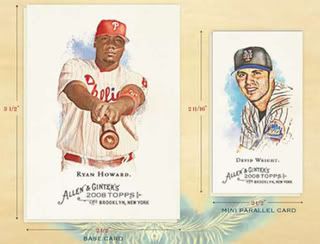 Our Results:
Cabinet Box-Topper: Baseball Highlights-M.Ramirez, M.Lowell, J.Beckett, J.Papelbon
Base Set:
140/350
List to come
Mini Parallels:
11 Regular-B. Harris, K.Kouzmanoff, J.Rollins, G.Meche, J.Peavy, M.Cabrera, D.Ortiz
D.Barton, C.Young, M.Teahan, A.Iwamura
2 Sp's- Harriet B. Stowe, Stephen Drew
4 A&G backs- Dean Karnazes(Ultramarathonist), Hideki Okajima, Brian Schneider(Mlb)
Mary Shelley(Novelist)
2 Black border- Roy Oswalt, Johan Santana
1 Pioneer of Aviation- PA1 Ornithopter
2 World's leaders- Angela Merkel(Germany), Jose Rodriguez Zapatero(Spain)
22 Total Mini's
20 United States: No duplicates
1 World's Greatest Victories: Kerri Strug (These were the key to "Crack the Code")
*Denotes SP
Game Used "Hits" : Well we doubled up on the expected pulls. John Smoltz, Adam Kennedy, Johnny Damon & Matt Biondi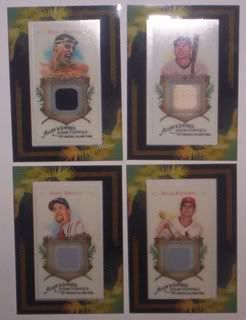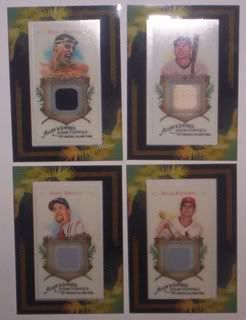 Final thoughts:
Keep in mind this is a "Retro" product. While there is "Hit" value, this is not a break to resell product (sealed case possibly). The real value comes from the details of each & every card and the chase to complete a theme or the whole set.
Topps does not rest on their past success and has continued to tweak & enhance the modern Allen & Ginter release culminating it with this years very cryptic "Crack the Code" and innovative "DNA" relic cards. "DNA" & "Collectible" do not usually go hand in hand, but Topps has carefully designed these cards, and the historical significance can't be denied.
Subject matter aside… in my opinion, it's Topps' attention to the basic cards design and overall set details that draws collectors back, year after year! I really enjoyed opening this box and doing so with time restraints on video does not do this product justice!  Can you relate to this? Buy box…rip, look for thick hit card, then maybe the Rc logo's, place the rest in the nuisance base box… Not with Allen and Ginter, this product is detailed even more than most retro or niche designs.
While sorting, I constantly found myself reading the cards and even learning a thing or 2. I especially enjoyed the "American Flags" insert over the usual blank decoy…Nice touch I hope this concept can carry over into other products.
Overall, I would highly recommend adding Allen & Ginter cards to your collection, be it a favorite Player, a team set or one of the many themes/subsets within the A&G release. I really hope this review helps in understanding this product and in making a decision on buying. Please leave constructive comments that may help future reviews.
Final Tally: 5/5 Another Home-Run
Box Contents: v/s Stated odds: 5/5
Base set Collation: 5/5
Enjoyment: 5/5
Design: 5/5
Recommend Product for purchase: 3.0/5 (Re-Sell Value) 4.5/5(Collectors buy)
As with all SCF sponsored reviews, these cards will be made available to SCF members through a variety of methods.
Thanks again to Topps.
Copywrite sources were Topps.com, Magazine-Exchange and WordPress.
No comments yet.
No trackbacks yet.