The Cup 2007-2008 Product Review
Description
Every new release of The Cup brings with it a huge buzz of excitement among collectors, and there is a reason for this: this set is just too impressive. Everything from the wrapping to the base cards is jaw dropping. The Cup comes in a fairly big box, inside of which you find a tin in which there is a smaller box, and once you open that one, you can finally get your hands on the cards. Wonderful cards I must say as all of the cards are of a high quality, very thick and come so very well packed and protected so you will not pull any which are half damaged.
As for the design of the set itself, as I have said all cards are very thick and sturdy, and the base set includes 100 cards numbered to 249. On each of those, you get a picture of the player in action against a grey background, bordered on each side by a pale blue line in which are depicted what can only be qualified as classy looking patterns. It also goes with saying that The Cup logo occupies a predominant position on the front of the card.
Box Details
Pack per box: 1
Cards per box: 4 to 6 cards
Base Set: 100 cards
Price: Between $300 and $355 but rising fast
Check out Upper Deck's Official Product Information

Checklists
All cards below were pulled in different box breaks, before I get into those I would like to say, from my own point of view, that this was probably the most thrilling break I have done. Just looking at those checklists make you dream, and the way the cards are packed, you really have to work to get the pack out making the anticipation feeling is almost overwhelming. I would also like to say that the first break is mine and the others are all breaks from members on http://www.sportscardforum.com/. I will include next to each break the link to the box break thread.
Break 1 Pheebs888
http://www.sportscardforum.com/showthread.php?t=545842
Base and Parallels
Dany Heatley 215/249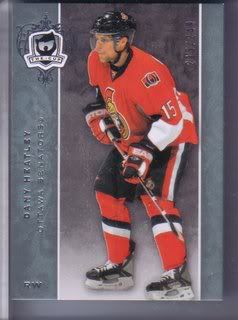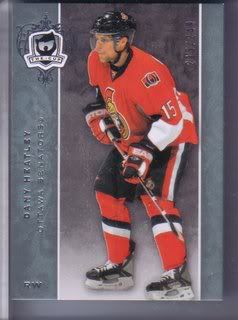 Rick Nash Gold 10/25
Darryl Sittler Gold Patch Parallel 4/10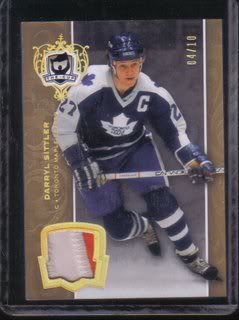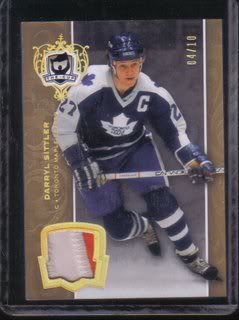 Autographed Rookie Patch
Brandon Dubinsky 80/249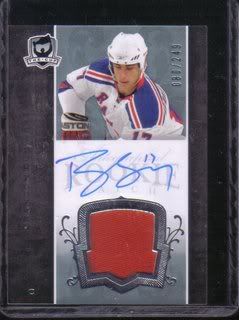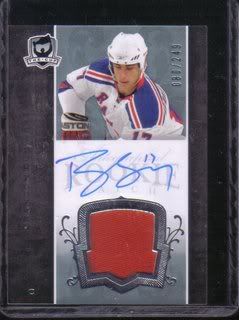 Scripted Swatches
Shane Doan 9/25
Rookie Masterpieces Authentic FW Auto – Black
Erick Johnson 1/1
Break 2 and 3 ScottKoz20 http://www.sportscardforum.com/showthread.php?t=540114
Break 2
Base and Parallel
Dwayne Roloson 2/249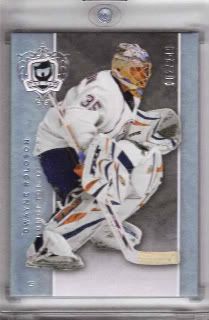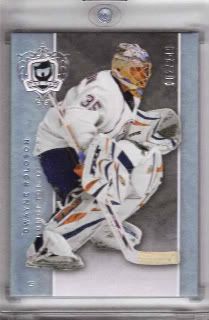 Brian Leetch 211/249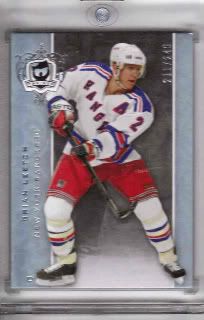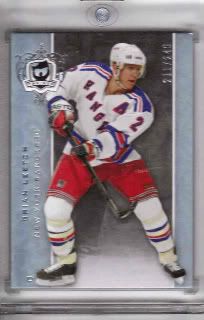 Autographed Rookie Patch
Dan Girardi 240/249
David Perron Gold 2/57
Cup Foundations
Alexander Ovechkin 3/25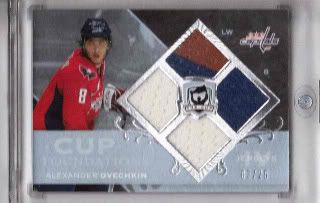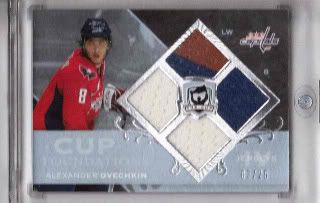 Rookies Masterpiece Autographed
Nick Foligno 1/1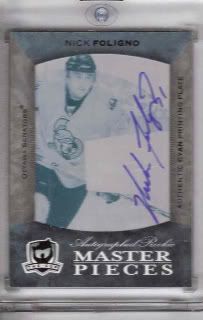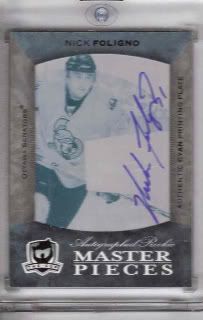 Break 3
Base and Parallel
Michael Ryder 172/249 and Teemu Selanne 140/249
Autographed Rookie Patch
Matt Smaby 24/249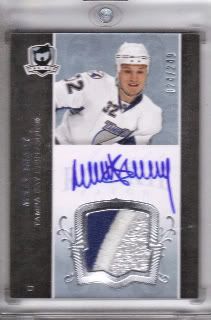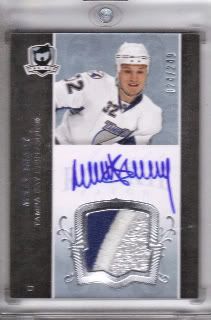 Cup Foundations
Johnny Bucyk 8/25
Dual Logo Auto Shield
Evgeni Malkin / Marc-Andre Fleury 1/1
Break 4 Enigma
http://www.sportscardforum.com/showthread.php?t=538170
Base and Parallel
Jaromir Jagr 188/249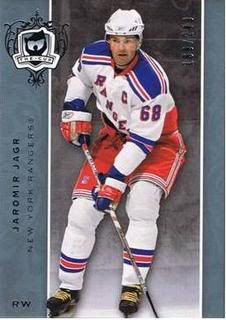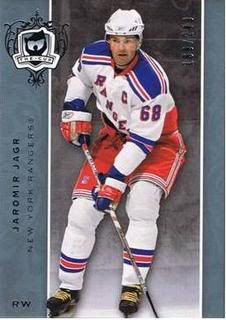 Nikolai Khabibulin 65/249
Autographed Rookie Patch
Rod Pelley 160/249
Autographed Honorable Number
Mike Modano 7/9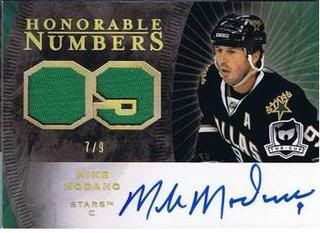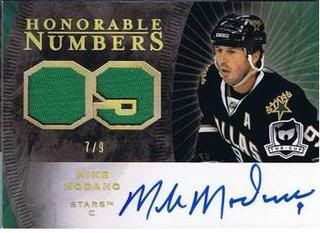 Cup Foundations
Martin Brodeur 17/25
Rookies Masterpiece MVP Redeemed
Kyle Chipchura 1/1
Break 5 Enigma
http://www.sportscardforum.com/showthread.php?t=538183
Base and Parallel
Joe Sakic 140/249
Clark Gillies 13/249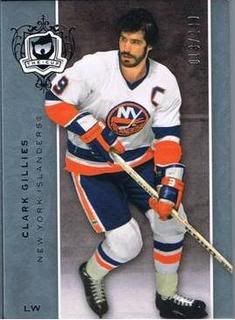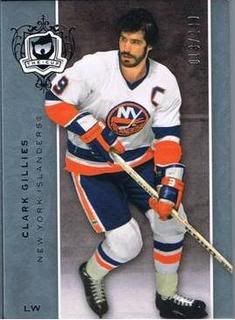 Autographed Rookie Patch
Torrey Mitchell 150/249
Limited Logos
Joe Mullen 5/50
Cup Trios
Neely/Ciccarelli/Bossy 2/15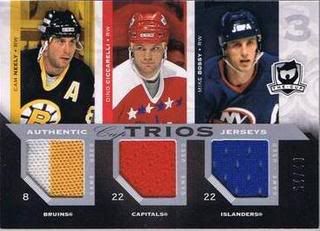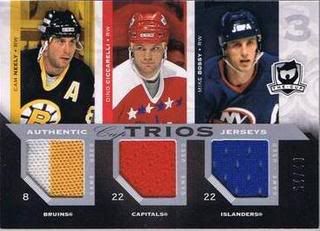 All-Star Royalty
Martin St. Louis 1/3
Comments
Well, these were a few of the breaks that took place on sportscardforum.com, overall it seems like our box breakers did very well. I am personally in awe at the variety of memorabilia inserts available in this product. The high quality and the endearing look of many of the patches pulled are also a definite big seller. While many high end products have been released this year (and will continue to be released), The Cup is probably the best option. It has been around for a few years and has demonstrated that it can hold its value quite well unlike Superlative which has cards selling for quite low prices on eBay, just like another high end release, OPC Premier. My biggest issue with this product however has got to be how fast a break is over but nothing's perfect. Of course, there is also the small matter of the huge customs fees you can be faced with if you buy from another country, but it's all part of the collecting game.
Final Ratings
Overall Design: 4.5/5
Value: 4/5
Fun: 5/5
Rebuy: 5/5
Variety: 5/5
Final Grade: 94%
Overall, this product is a bit hard to rate as, for example, there are so many different insert sets with different designs, some more eye pleasing than others. As for the value, yes it resells well, but it is very expensive to get a tin of The Cup…there is also always the chance that you will not pull something of your taste and feel like you spent way too much. That being said, if you have the funds necessary to buy a tin or even a case of this stuff, you will most definitely enjoy the thrill of busting those boxes. Good luck if you decide to get some and please drop by SCF and share the break!
No comments yet.
No trackbacks yet.