2008 NHL Upper Deck Black
By Karine Hains, Editor-In-Chief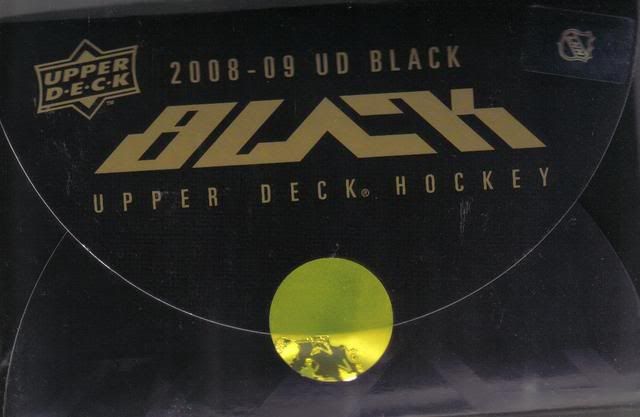 Description
In yet another high end release, Upper Deck recently launched Black. With great designs, the cards look incredibly smooth and slick. As with any high priced product, the checklist includes plenty of memorabilia and autographs. On most cards, the dominant color is black and depending on the insert set of the cards you pull various colors complete the effect. Even the outer packaging of this release says high end; with a black box, complimented by a golden seal and two mini-boxes sealed on the inside it will take you a while to get to the actual cards.
Box details
Packs per box: 2
Cards per pack: 2
Base set: 42 cards including 4 jersey swatches each
Price: $199.00 to $249.00
Check out Upper Deck's product information
Checklists
All of the cards below were pulled during our break, which yielded one Game Night Ticket, one Mark of obsidian and two Rookie Lettermen cards.
Rookie Lettermen
#88. Jordan Lavallee "L" 218/399
#99. Colin Stuart "N" 116/399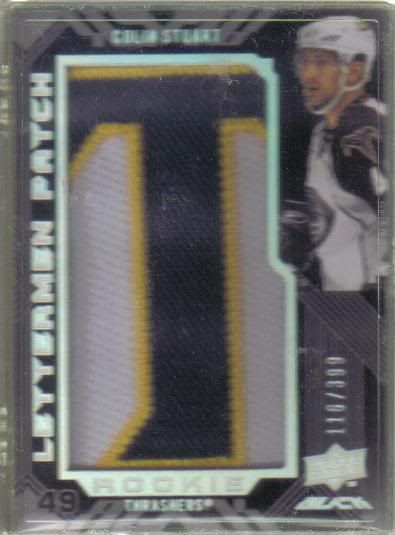 Marks of Obsidian Auto Patch Materials Gold Parallel
MO-MN. Markus Naslund 1/25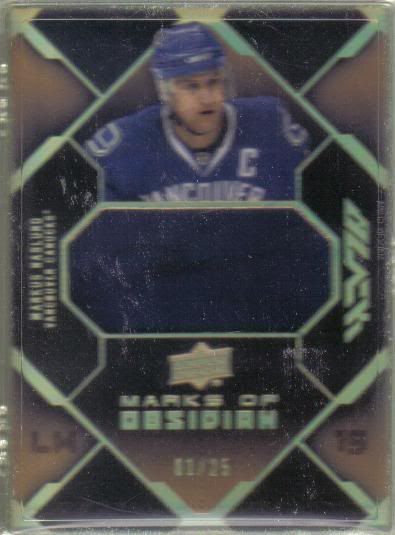 Game Night Auto Manufactured Tickets Gold Parallel
GN-GH. Gordie Howe 1/10
Comments
As you can see from the pictures above, the cards are extremely nice from a visual point of view. The black backgrounds coupled with the silver or gold patterns make for a slick set of cards. The break was also very entertaining as the checklist is full of huge hits to chase, so the "what if" feeling is with you every step of the way. However, in my opinion, there is one big problem with this set: the manufactured patches. In this break, both Lettermen and the Marks of Obsidian card included such patches. If you are not familiar with the term, manufactured in this context means that these were never used in any game or any event. While I understand that the supplies of game used equipment are not unlimited, it seems to me that if you are going to use manufactured patches, you can at least use a good one. For instance, Upper Deck also used manufactured patches in their O-Pee-Chee Premier release and in that case, the patches all included various designs and special patterns. But for this product, you will find very bland manufactured patches such as the one on the Naslund card above. This release is yet another high end brand and to justify the hefty price tag, it truly feels like Upper Deck should have given more to the collectors. Even the Lettermen cards include manufactured patches, so ask yourself would you rather get some of those or would you prefer a Lettermark or a By the Letter card from SP Game Used?
It appears that Upper Deck is willing to see how far they can push the collectors before they actually react and complain or blatantly stop buying certain of their products. Personally, while I do love the look of these cards and thoroughly enjoyed the break; I will never buy another box. It will be interesting to see how the product does over the coming months, will it sell well? How much will these cards go for on auction sites such as eBay? Something tells me the reaction might not be very positive…
Final Ratings
Overall Design: 5/5
Value: 2.5/5
Fun: 5/5
Rebuy: 2.5/5
Variety: 4/5
Final Grade: 76%
I must admit that I find this release hugely disappointing and I am convinced that Upper Deck could have done much better with this idea. While there are very positive aspects to this product they are overshadowed by issues which could have easily been addressed. Time will tell if most of my fellow collectors agree with me but right now, I see Upper Deck Black as a miss rather than a hit.
No comments yet.
No trackbacks yet.