Collecting Trends
By Karine Hains, Editor-In-Chief
When I first started collecting at the venerable age of 6, everyone was collecting in the same way. We were all building sets because that was all there was, you opened a pack and you were over the moon to get a base card of your favorite player. Nowadays, this is just not enough anymore.
The consequence? Many inserts, a multitude of sets with numerous parallel versions and an avalanche of game used (GU) /autograph cards. How did we collector react to all these options? What do we collect now? Intrigued to find out, I made a poll in the 4 busiest forums on SCF. The diagram below indicates the results.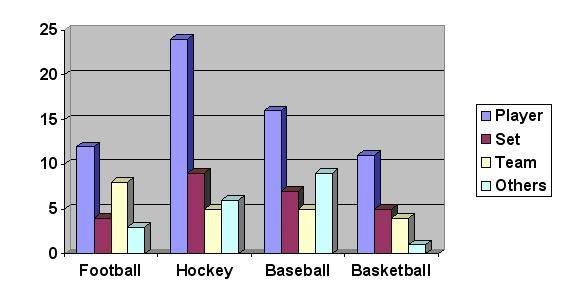 In total, 98 people took part in the survey entering a total of 129 votes as many members have more than one focus to their collection. Putting all sports together, player collecting came on top by a landslide, 49% of the votes going to this category. To my surprise however, set collection came second with 19% closely followed by team collection with 17%. Trailing behind at 15% is the "Other" category; this includes rookie, memorabilia and autograph collections.
The overall results were very representative of the results by sports, the only discrepancy being that the team option was more popular than the set option in the football forum. This did not come as a surprise to me though considering this area has a very organized team collector group.
I must admit that I was shocked to see the lack of popularity of the "Others" category. Most companies are pushing hard on game-used/autograph and rookie cards; it seems that on SCF at least, the collectors are not really following that trend.
Perhaps the "Other" option lacked popularity because of its expensive nature. If you look at price guides, it doesn't take a long time to realize that the priciest cards out there are the autographed, game used and the rookie ones. Although to be fair, we are now getting to the point were autographed and game used cards are so common that their value is going down, even on relatively high end product such as Upper Deck's Ultimate Collection.
Of course, we must not forget that player collections can also, and in most cases do, include what makes up the "Other" category. How many of you player collectors out there can say that your collection doesn't include memorabilia cards? I'm pretty sure the answer to this is not many. I myself actively collect Patrick Roy and have over 500 of his cards. Due to space restriction, I cannot display them all but I put my favorite ones in a display frame. Right now, there are 29 cards in my frame but a mere 8 cards are neither autographed or memorabilia. That's only 28% of the card displayed, not exactly a huge chunk. However, if I decided to only display the cards with the highest value, none of those great inserts would be there.
Lately, I also decided to make a top 5 of my favorite Roy cards and each and every one of them include a memorabilia piece and/or an autograph. Should I therefore define myself as a player collector or have I been sucked in by the memorabilia/autograph monster? Past experience and further introspection made me realize that even though I do love this card, that doesn't put me over to the "Other" category. Why? Well, if I was a GU or autograph collector, the Gretzky GU card I received as a Christmas present would still be in my collection, it would not have been traded away for yet more Patrick Roy cards and the same goes for the Patrick Kane autograph I had.
A further indication of my non conversion to the GU and autograph dark side is my complete attraction for the O-Pee-Chee Premier manufactured patch cards. The release of that set created an uproar from many collector, being completely offended and even feeling cheated that the patches provided were not used in a game or in an event at the very least. Personally, I am just incredibly happy to have four cards depicting important elements of my favorite's player career. The number of Stanley Cups he won, the Vezina trophies he captured, the fact that his number was retired by the Avalanche and finally a pattern illustrating the nickname he was given, it's like a brief history of his career in four cards. In my honest opinion, those are great cards to have for a player collector. Unless of course the underlying motivation to your collection is not the player himself…
As for the rookie cards, we all know that if you want to get your favorite player's rookie card it will more than likely cost you a respectable amount. Especially if your favorite player is getting a lot of hobby love or if he is one of the new "darlings of the hobby". Through astute trading, I managed to get a lot of Carey Price's rookie cards (he is another one of the players I collect) but my priorities being what they are,  I ended up trading a few of them for Patrick Roy cards. Yes, some of those got me Roy autographs but at the end of the day, this hobby seems to be mainly about the money and to get the high value cards, you have to sacrifice high value cards too. Did I make the right move there? Should I have hung on to Price's rookie cards to speculate or was improving my Roy collection the right option? Many will say time will tell depending on what value the Price cards hold once all is said and done but to me, this is not even a factor. The aim is not to get the most valuable collection; it's to get the best one.
What is the best collection though? Some will say that best and priciest are synonyms. Not me. To me, the best collection is the one that has the cards that I, as a collector, want the most.  That collection will include an insert from 96-97 set Les gardiens in which Roy is picture in front of the Fleur-de-Lys and it will also include a common Pro Set card of Patrick's mask. Why? Because I collect this player and to me, most desirable doesn't necessarily mean most expensive.
 What about you? Are you a player collector or a rookie collector? Did you ever wonder what your true motivation to collect was? I hope you can take the time to think about it; otherwise, you may have to seriously rack your brains if a trade offer concerning a personal collection item comes along…