Montreal Collectors' International Card Show
Guest article by CoolHandLuke
Centre Paul Charbonneau, Montreal QC
October 24th,25th, and 26th, 2008
Montreal Collectors' International Card Show is one of the only annual shows that have sport cards in the Montreal area. Since the end of the 90s, most card show disappeared from the scene. I did speak with a cards shop owner that was at every show in the 80s and 90s. I met him this summer at his shop, sitting in the middle of pile of O-Pee-Chee vintage cards listing them for his eBay store. Back then, he told me he abandoned doing shows but he was there this week-end and he was telling me it was his first one in more than 10 years. Will card shows become popular again in the Habs market? Yesterday tends to indicate that activity is definitely on the rise. The Habs centennial along with a good season could get collectors that did abandon the hobby to come back.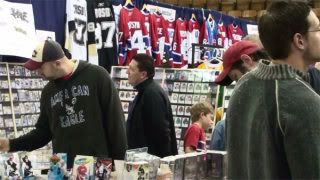 The new generation didn't have a big presence at the show or at least they were not buying cards much. Buyers were for the most part adults; this could be due to the diversity of card price range. For the buyers and collector, it was fun to renew with this aspect of the hobby. This was also my first show in about 15 years and I appreciated it a lot. My two days spent there cost me a bit but I got sweet autographs and cards.
Friday night I did see three Sergei Kostistyn the Cup RC /99 (freshly released from the Upper Deck redemption program), one rainbow and one platinum. I believe they were all sold out by Sunday. Carey Price cards were hot, hot, hot… There were plenty of Habs cards, Hall of Famer players, wax box, books and old autographed items all over the place. In Montreal shows, you always see a lot of vintage cards and items. Many of those vintage sellers had left by the time the autograph session started. I guess they felt the show was over for them as the crowd became younger and more focus on the Carbonneau, Kostityn and Price autograph session.
I went back on Sunday, the show got more active around noon because of all the people present to buy their autograph ticket. Guy Carbonneau and Carey Price were both announced to be present at 1 PM. Andrei Kostistyn and Sergei Kostistyn were scheduled to arrive at 2 PM. Guy was present at 1 PM but Andrei was cancelled due to his injury and his brother Sergei with Carey Price were moved to 3 PM. This of course was not making their fans happy with the additional wait but it sure did not stop them sticking around to get the autographs. Sergei did arrive on time but Carey Price was 30 minutes late.
The fans sat down in line inside a long corridor. Most of them got to talk with the person waiting next to them and overall, it was a pleasant wait. The queue was longer than the corridor itself, and turning at the end to continue in another corridor. During the Carbonneau signing session, a TVA journalist wanted to interview Guy while he was signing and fans were waiting in line. Carbonneau refused to do the interview during the signing session as he said it would not be fair on the waiting fans. This made the journalist unhappy but it must have pleased the fans.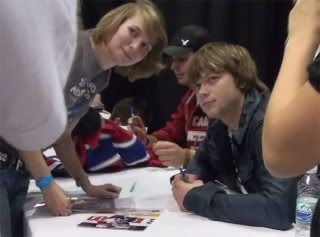 The autographs were not free. Guy asked for $29 so did Sergei for an autograph on either a magazine, a card or a small/medium photo. As for Carey Price, his moniker was a hefty $49. The price for a signature on a jersey, or a poster would reach $75 in Price case and $40 for the other. If you didn't have something to get autographed, you needed to buy something on site like a lot of the fans. 8 X 10 photos were sold for $7 plus $3 for a top loader to put the image in. They were also selling pucks and jerseys. In total, for a Carey Price 8 X 10 autographed image, you had to pay $59. Certainly not free, but did I mention that they each signed a few free autographs coming in and going out of the show? Younger fans were waiting outside for cabs and some got the goodies free.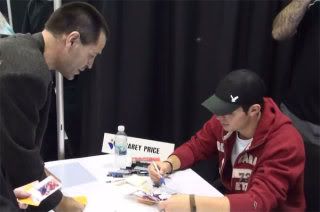 In the end, the real fan did not mind paying the money requested. That precious auto was planned a long time ago for certain people. Some came from far, mother and daughter, father and son; hockey is often a family love affair. Guess I fall in this category as I was there along with my sister who bought both a Carbonneau and a Price autograph. I made three short videos about the show and hosted them on the SportCardForum youtube channel.
In the first video, it's mainly a tour of the show and cards:
http://fr.youtube.com/watch?v=FT0ZE-pLvkQ&feature=channel
The second video is Guy Carbonneau's autograph session:
http://fr.youtube.com/watch?v=TVzGdD9b4XY
The third is Carey Price and Sergei Kostistyn's autograph session:
http://fr.youtube.com/watch?v=nF3mH2AEb_o