2008-2009 Upper Deck Artifacts Hockey Product Review
By Karine Hains, Editor-In-Chief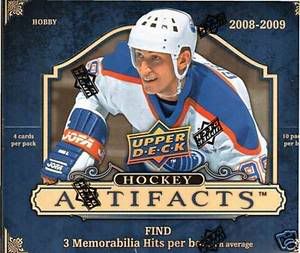 Description
This year's incarnation of the popular Artifacts brand is quite significantly different from last year's release. The design of the base card is much less colorful, with the background color being a simple brown as opposed to the livelier blue/grey chosen a year ago. Of course, the trademark artifacts pattern is still included but it has been moved to the four corners of the cards. The standard base set again comprises of 100 regular cards, followed by 50 Legends, 50 Stars and 60 Rookie cards. On top of this, there are also 42 Rookie Redemptions.
Unlike in the 2007-2008 release, the Rookie cards do not blend in as well with the base cards. The color of the cards is lighter and the player is depicted once in color and once in monochrome blending in with the background. A "Rookie" logo is also found in the bottom right corner and the Artifacts pattern is not present as on the regular base cards.
Box Details
Packs per box: 10
Cards per pack: 4
Base set: 100 cards, 50 Legends, 50 Stars
Price: between $85 and $100
Check out: Upper Deck's Product Information
Checklists
Checklists of all parallel versions can be found here.
Parallel Guide
Base, Rookie, Legends, Stars
Silver /100
Gold /75
Blue /50
Copper Spectrum /25
Silver Spectrum /10
Gold Spectrum /1
Black Rainbow non-auto /1
Black Rainbow auto /1
Tundra Tandem
Bronze /75
Silver /50
Gold /25
Red /1
Patches Copper /35
Patches Silver /10
Patches Gold /5
Dual Tag Patch Red /1
Tundra Trios
Gold /35
Patches Blue /10
Frozen Artifacts Dual Swatch, Treasured Swatches
Standard /199
Silver /100
Gold /75
Blue /50
Red /10
Black /1
Treasured Swatches Jersey Patch Combo, Frozen Artifacts Jersey Patch Combo
Standard /50
Silver /35
Gold /25
Blue /10
Black /1
All the cards below were pulled during our box break.
Base cards: 30/100 No duplicates
Legends: Dale Hawerchuk
Stars: Patrick Marleau
Base Parallel
Marc Savard Copper Spectrum Parallel 13/25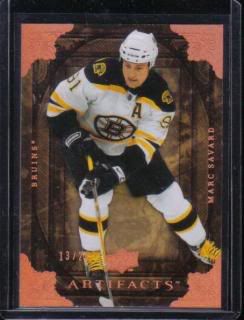 Rookies
Danny Taylor
Chris Minard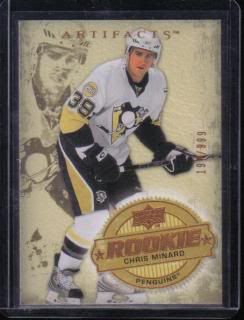 Colorado Redemption
Frozen Artifacts
Daniel Alfredsson 191/199
Frozen Artifacts Jersey and Patch Combo
Dominik Hasek 50/50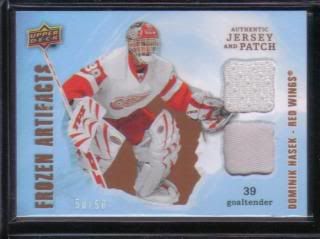 Tundra Tandems
Henrik and Daniel Sedin 15/100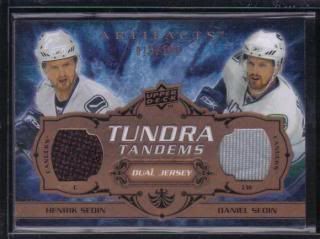 Auto-Facts
Tobias Enstrom
Comments
Once again this year, Artifacts is a parallel heavy product. Depending on what you like collecting this may be a good or a bad thing for you. Personally, I concentrate on player collecting and I like to have different looking cards of the players I collect. I much prefer two different action shots of Patrick Roy than two cards of him which include the same picture but a different numbering. On the design front, I really like the new look of the base set and of the rookie but I am definitely not convinced by the new look of the "Frozen Artifacts" sets. The cards look like the player is bursting out of a layer of ice but at the same time, there is a certain "cartoony" looks about them and I am far from certain that this is the effect they were aiming for. Both the Auto-Facts and Tundra Tandems and Trios set are quite pleasing to the eye however. In this particular box break, the jersey swatches and patches were far from spectacular but I have seen some spectacular pieces pulled in the product this year.
Each box contains a respectable amount of "hits" which makes for quite an enjoyable experience as you can anticipate plenty of goodies. Once the product came out, the boards were flooded with box breaks and it is safe to expect that Artifacts is once again a good bet for trade bait.
If you like to build sets and master sets, you will need to invest a significant amount of money to reach your target. With only 40 cards per box, 30 of which are base; it will take you at least 4 boxes to get the normal 100 card base set. Should you decide to build a set of each parallel version well, there is no telling how much it will cost you or how long it will take.
Final Ratings
Overall Design: 4/5
The point deduction is because of the new look Frozen Artifacts which in my opinion was anything but an improvement.
Value: 5/5
In today's market, paying $90 for a box in which you get on average three memorabilia cards and one autograph is in my view a very good deal.
Fun: 5/5
A box break of this product will yield plenty of "hits" and this alone makes the experience great fun.
Rebuy: 4.5/5
Both the "fun factor" and the value of this product make it a personal favorite or mine and one which I will definitely buy again.
Variety: 3.5/5
Yes there are many cards here with all the parallels but to me these are all the same, they do not increase the variety in my opinion. The parallel obsession with this product is starting to get a little bit old for me. However, I cannot be too harsh as there are still plenty of insert, autograph and memorabilia set.
Final Grade: 88%
I enjoyed Artifacts last year and I am enjoying it again this year. I fully expect this to be one of the best selling products this season. In closing, one request; if you pull a Patrick Roy / Carey Price Patch Tundra Tandem please let me know!