Patrick Roy Biography and Best Hockey Cards
By Karine Hains, Editor-In-Chief
October 5th 1965 is an important date for the world of hockey. Not for one but for two reasons. On that day, both Mario Lemieux and Patrick Roy were born in the province of Québec. No one could have known then the kind of impact both players would have on the sport but 43 years later, there is no denying that they changed the face of the sport. Growing up in Québec City, I watched each and every one of Roy's games with the Canadiens and through solid and spectacular performances; he became not only my favorite athlete but also the main focus of my collection.
From a very young age, Roy took up the goaltending duties in street hockey games in his hometown. One thing led to another and soon enough, he was wearing the pads for the "Quebec Haute-Ville" pee wee team at the prestigious International Pee Wee hockey tournament in Quebec. From there, his objective was clear; get to the National Hockey League. He moved through the ranks making an impression at every level; with the Sainte-Foy Gouverneurs at midget level and then with the Granby Bisons at the Junior Level. The Granby team was far from being a powerhouse and this meant that he had to face many 60+ shots games while suiting up for the Bison. He finished his second junior season with The Bisons with a goals against average (GAA) of 4.44. Not a very impressive number but when considering the poor defense he was working behind, he did rather well and finished with the third best GAA in the league.
Following the Bisons' elimination from the playoffs in the first round, a long summer lay ahead of Patrick but he did have one thing to look forward to that summer…The NHL entry draft scheduled for the 9th June 1984. On that memorable day, the first pick overall was of course Mario Lemieux and Roy had to wait until 2 other goaltenders had been selected (Craig Billington and Darryl Reaugh) before hearing his name called. The Canadiens used the 51st pick overall to select Roy. Not long after, he signed his first professional contract with the Habs and was ready for his first professional training camp. He stayed with the Canadiens until the 24th October before being sent back down to his junior team as he was rather young and could use more playing time. Towards the end of the 1984-1985 season the Canadiens assigned Roy to their farm team; the Sherbrooke Canadiens. There, he would start to write a page in the history book of hockey with the goaltender coach Francois Allaire. He started his professional hockey career by leading the Sherbrooke Canadiens to the American League Championship and was promoted to the big league the following season.

In 1985-1986, Roy started the year as Steve Penney's back-up. He had his ups and his downs but late in the season, Jean Perron (the Canadiens' head coach) decided to bring Francois Allaire up from Sherbrooke to work with Roy on a daily basis. Together they spent hours in the video room studying his technique and slowly but surely bettering what became known as the "Butterfly" style. That spring, Roy backstopped the Habs to a well deserved Stanley Cup and a legend was born in Quebec. His stellar play during the post season earned him the Conn Smythe trophy as the playoffs MVP, he would go on to win this trophy 3 times over his decorated career something no other player has ever accomplished.
Over the years in Montreal, Roy carried on working on his technique and became the idol of numerous young goaltenders in Quebec, many of which made it to the NHL. His influence has been tremendous just like his accomplishments. From 1984 to 1995 in Montreal he won 2 Stanley Cups, 4 William M. Jennings trophies (less goals allowed by a team), 3 Vezina trophies (best goaltender), 2 Conn Smythe trophies (playoffs MVP), he was selected on the first All-Star team 3 times and twice on the second All-Star team. Many fans will remember Roy's wink to Thomas Sandstrom in the 1993 Stanley Cup final. He liked winning and doing it in style…
Unfortunately, the bliss came to a halt in Montreal on the 2nd December 1995. That evening, the Habs were taking on the Wings and the Canadiens rookie coach, Mario Tremblay, was keen to prove to his star goaltender who was the boss. Roy had a dreadful evening and let in 9 goals on 26 shots. The crowd being like it is in Montreal, the jeered Roy a few times on the easy saves he made. When Tremblay was satisfied that his goaltender had "learned his lesson" he pulled him out of the game. Frustrated, Roy went straight to the team's president, Ronald Corey, and told him that he had played his last game in Montreal. He didn't take kindly to the humiliation and decided instantly that he could not play under Tremblay anymore.
Three days later, Roy's wish was granted when Rejean Houle traded him along with Mike Keane to the Colorado Avalanche in return for Jocelyn Thibault, Andrei Kovalenko and Martin Ruscinsky. Colorado, managed by Pierre Lacroix (Roy's former agent) made what is seen by many as the biggest steal in hockey history on that day. Roy went on to enjoy many successful years with the Avalanche while the Canadiens suffered without solid goaltending until Jose Theodore emerged in 2001.

In Denver, Roy won the Stanley Cup twice (1996, 2001), the Conn Smythe Trophy once, the Jennings trophy once, was named on the 1st All-Star team in 2002 and took part in the All-Star game in 1997, 1998, 2001, 2002, 2003. He was hailed as hero when he helped the Avs win the ultimate prize in their first season in Denver and he was a big part of Raymond Bourque finally realizing his dream of winning the Stanley Cup in 2001.
When he retired in 2003 he held many records: most regular season wins (551), most playoff games played by a goaltender (247), most playoff wins by a goaltender (151) and of course most Conn Smythe trophy wins (3). Yes, some of these records will most probably be beaten by Martin Brodeur but to me, it doesn't matter. Roy will forever be remembered as the best clutch goalie of his generation and as a true inspiration to numerous goaltenders.
If I had to list my five favorite Roy moments I would have to go for the following:
5. Roy makes the save on Thomas Sandstrom in the 1993 Stanley Cup final and winks at him. The McDonald's restaurant immortalized this moment on a T-shirt which was extremelly popular in Quebec after the Habs conquest of the Cup.
4. In the 1996 Playoffs, Jeremy Roenick taunted Roy in the press with one of those special J.R. comments. Roy's reaction? He said: " I can't hear what Jeremy says, because I've got my two Stanley Cup rings plugging my ears". Even in an english that was at best tentative back then, Roy could be witty enough to play with the best of them. Raising to the challenge, Roy lead the Avs past the Hawks that year on his way to a 3rd Cup ring.
3. Roy's play in the 1993 playoffs, winning 10 games in overtime. A goaltender's play truly is on display when games are this tight. Under pressure, no one excels like Patrick Roy and he sure demonstrated it that year.
2. Game six of the 2001 Stanley Cup final between the Avalanche and the Devils. The Devils were in the lead 3-2 and could have finished the series and win the Cup but that night, Roy stopped all 24 shots taken by the Devils while the Avs scored 4 times in 18 shots on Brodeur. A few days later, Ray Bourque was finally able to raise the Stanley Cup…
1. The 1994 playoff series against the Bruins. No, the Canadiens didn't win but Roy missed game three with an appendicitis but came back in game four and stopped 39 shots in a 5-2 Canadiens' victory. After the elimination, his appendix had to be removed. This truly shows Roy's commitment and determination, two reason why I really admire the athlete.
Now for my 6 favorite Patrick Roy cards, this is not solely based on book value as I firmly believe there is more to collecting than the economic aspect.
6. 1997-1998 Donruss Canadian Ice Les Gardiens #1
This card only has a value of $30 but I think it is more than just a card. It is also a reminder of Roy's origins and of the fact that he influenced and inspired an entire generation of French-Canadian goaltenders.
5. 2007-2008 ITG Superlative Holy Grail Silver 3/9 #HG-14
Many did not like ITG's Superlative, I personally did. This card is by far the best card I ever pulled out of a pack. It marks Roy's capture of the Stanley cup in 1986 and the jersey piece is a fantastic 2 color split. I also like the fact that it is different with the picture of Lord Stanley on the front. Being such a short printed card, there is currently no book value for it.
4. 2007-2008 The Cup Stanley Cup Signatures 5/25 #SC-PR1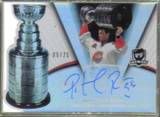 A beautiful on card autograph of Roy on a card which commemorates his Cup wins as a member of the Montreal Canadiens. Current book value is $250 but its sentimental value to me is much higher.
3. 2007-2008 The Cup Chirography #CC-PR
Another autograph from this year's release of The Cup. The Chirography set is absolutely stunning with the light autos on the black background. It was almost a breathtaking sight when I received this card.
2. 1996-1987 Kraft Drawings #61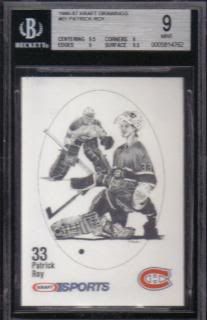 This is by no means a high end card, it's not short printed, autographed and does not include memorabilia. It only has a book value of $40 but it is one of the first Roy cards I ever had. Before of course damaging it and losing it at the venerable age of seven. It took me some time to find this one, which is an amazing looking graded version.
1. 2007-2008 The Cup Signature Patches #SP-PR 5/25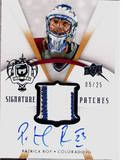 I love everything about this card; the design, the colors, the flawless autograph and the fact that only 25 of these were made. It currently has a value of $300 but I would never ever sell it. When this card was pulled on SCF I was certain I wouldn't have enough to trade for it. However, the trader accepted to trade down and I am forever grateful for this.
If you wanted to find the highest valued Roy card right now, you would have to look for the 1997-1998 Pinnacle Totally Certified Mirror Platinum Gold #2 which currently books at $1200. This excludes all cards which are too short printed to establish a market value.
Of course, this article is only a small glimpse at Roy's career, accomplishments and best cards but hopefully it is sufficient to make you understand a little bit more why he is the main focus of my collection. In closing, be sure to watch the Bruins-Canadiens match on the 22nd November 2008 to see the Habs retire Roy's number in front of a packed Bell Centre; a pair of tickets for the event currently sells for more than $400.