Upper Deck NHL Series 1 2008-2009
By Karine Hains, Editor-In-Chief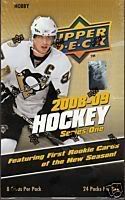 Description
Another year, another release of the good old standard Upper Deck series 1. Year after year, this set is eagerly awaited by rookie collectors keen to put together a set of the year's finest freshmen. In a world where collectors have fallen out of love with the base cards, Upper Deck carries on doing its best to create different inserts sets year in, year out. This year, one can expect to find as inserts; Captains Calling, Sophomore Sensations, Winter Classics, Hockey Heroes (based solely on Sidney Crosby) and Hat Trick Heroes cards. On the autograph and memorabilia front, the popular Game Jersey set returns, just like the Signature Sensation one. Rarer inserts include clear cut winners, dual clear cut winners and of course the popular Fab Four Fabrics.
The base card design has not changed or evolved much since last year, the main difference is on the Young Guns cards. This year, the "Young Guns" mention is located at the bottom of the card centered and enhanced by a pattern which is not without reminding us of the "Artifacts" type of pattern. So far, this new look for the popular rookie card series has been met with a lukewarm reception. I am personally pleased with the new design.
Box details
Packs per box: 24
Cards per pack: 8
Base set: 200 cards
Price: Between $63.00 and $70.00
Check out Upper Deck's complete checklist
Content highlights:
The latest wave of Young Guns hits UD1, averaging 6 per box
Get 2 UD Game Jersey cards in each box on average
Collect Clear Cut Winners Die-Cut Acetate card, look for dual versions as well
Look for Winter Classic and Hat Trick Heroes inserts
Put together the entire UD1 parallel set
Featuring Exclusives and High Glossy versions
Product breakdown:
Rookie Cards: Young Guns – inserted 1:4
UD's Game Jersey Tradition Lives On – Other Signature & Memorabilia Cards too.
Game Jerseys – inserted 1:12
Fab Four Fabrics – #'d t100
UD Game Patch – #'d t15
Signature Sensations – inserted 1:288
Terrific Die-Cut Acetate Cards
Clear Cut Winners – #'d t100
Clear Cut Duos – #'d t25
Must-Have Regular Set Parallels
Exclusives – #'d t100
High Glossy – #'d t10
Superstar Inserts (combined to deliver 1 in 4 on average)
Hat Trick Heroes – inserted 1:12
Winter Classic – inserted 1:12
Sophomore Sensations – inserted 1:24
Captains Calling – inserted 1:24
Regular Cards
The Break
All of the cards below were pulled during our break.
Base: 178 Cards (no duplicates) 89% of the complete set
Young Guns: 5
Hat Trick Heroes: 1
Captains Calling: 2
Hockey Heroes: 2
Winter Classics: 2
Sophomore Sensations: 1
Jersey cards: 2
Young Guns
Blake Wheeler – Boston
Jared Ross – Philadelphia
Steve Mason – Columbus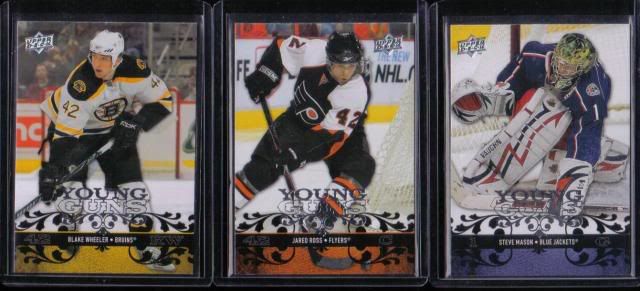 Matt D'Agostini – Montreal
Robbie Earl – Toronto
Mikkel Boedker – Phoenix
Winter Classics
WC11 Ryan Malone
WC2 Ryan Miller
Captains Calling
CPT1 Sidney Crosby
CPT4 Nicklas Lidstrom
Sophomore Sensations & Hat Trick Heroes
SS4 Marc Staal
HT8 Vincent Lecavalier
Hockey Heroes (Sidney Crosby)
HH6
HH7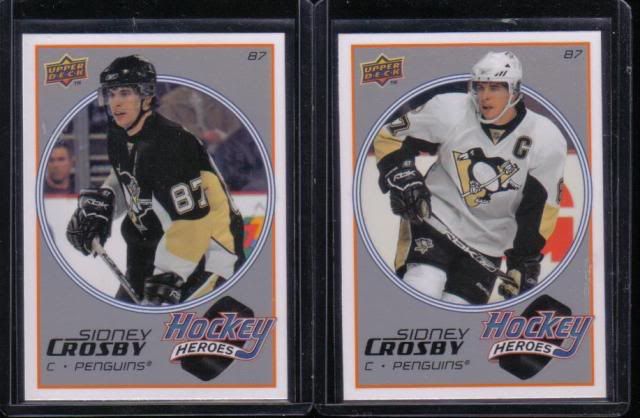 Game Jerseys
GJ-MG Mike Green
GJ-AK Alex Kovalev
Comments
Year after year, it feels like the release of the basic Upper Deck series brings very little in the way of innovation. Of course, they do try to enhance the release with various inserts sets but not many of those have proven to be a hit with the collectors. Personally, I was disappointed to see that this release did not include my favorite insert set: Hometown Heroes. These cards depicting the city in the background of a local star player were amazing looking and I was looking forward to add to my collection. Of course, some will say they had covered pretty much all of the big stars, but what about last year's rookies who made quite an impression? Or even the legends of the past, Gordie Howe, Maurice Richard or Wayne Gretzky…
The new inserts sets this year are: Captains Calling, Sophomore Sensations, Hat Trick Heroes, Hockey Heroes and Winter Classics. I was quite pleased to see the Hockey Heroes set featuring Sidney Crosby as it's a pure blast from the past to the days where Gretzky and Brett Hull were featured. As for the Winter Classics set, well, I was charmed by the same set in the earlier release of O-Pee-Chee (OPC) but having the same set in two near consecutive releases makes little sense to me. Furthermore, I much preferred the design of the OPC version. I can understand the inclusion of the Sophomore Sensation set considering the quality of last year's rookie crop and how many collectors are chasing Price, Kane and Toews to name a few.
Overall, I would say this was your average run of the mill release by Upper Deck, nothing extraordinary but I assume that they think if something isn't broken, there is no need to fix it.
Final Ratings
Overall Design: 4/5
Solid photography and nice design, although I am not a big fan of the fact that the player's name and team are written in silver on the front of the card as the information can sometimes be tricky to read.
Value: 5/5
You can't fault Upper Deck on this aspect; the price point makes this product accessible for all collectors. The fact that so many people always try to build the Young Guns set almost guarantees that you will receive some nice trade bait or even personal collection items in return for the rookies you pull, making this a good investment.
Fun: 3.5/5
I've done quite a few breaks lately and I must say that this one wasn't one of the most thrilling. I much more enjoyed my OPC breaks even though the odds of getting memorabilia are minimal in that release.
Rebuy: 4/5
As I said earlier, many collectors are chasing the Young Guns so buying a box of this is a good way to get yourself some trade bait and stay active on the trading market.
Variety: 3.5/5
There are quite a few set of inserts but nothing really new and amazing. I give credit to the product for the Sophomore Sensations set but I do feel like they could have pushed the boat a little bit more to diversify the breaks.
Final Grade: 80%
While this is a good product to get trade bait, it is by no means the most fun out there. I doubt that I will buy any more of this but if I was to get some for free, I would certainly take it.