ITG Ultimate Memorabilia 8 Product Review
By Karine Hains, Editor-in-Chief
For many hockey collectors, Upper Deck is the only way to go. Why? Simply because they have an exclusivity licence when it comes to producing cards depicting the NHL players, as a result other companies are unable to use the teams' logos on their product. Whilst you may agree with most and think that any release which cannot make use of the teams' logos is doomed from the start, I respectfully disagree. For me, this is by no means a fatal blow and In the Game's Ultimate Memorabilia brand has more than enough redeeming features. From the packaging to the overall look of the cards and the multitude of insert sets, this is a release for real fans and real collectors. Interestingly, ITG only produces 10,000 packs of this product which means that once these are gone, it's all over. It certainly adds an important chase element if you decide to put together a set of these.
From the moment you break the seal on the box and open it to reveal five neat little boxes (or packs) you know you are in for a treat. With only 3 cards per pack, the breaks are short but they are also hugely entertaining. Who said something needs to last long to be fun? Any rollercoaster fans in the audience? This product is not accessible to everyone however for one reason; its rather expensive price tag…
Description
The most distinctive feature of the Ultimate memorabilia brand is that every single card comes sealed in a hard protective case, just like graded ones. Obviously, this means that you will not get any damaged card which is in itself is a huge plus. The base cards this year look absolutely amazing especially if you are a fan of the "DUFEX" technology ITG has been using for their "The Mask" insert sets. There are three different level of the 100 strong base set; silver, gold and onyx. The background colour of each version is of course different and the "DUFEX" technology gives the impression that the players are literally bursting through the cards. However, because of the licence issue you will not see an "action shot" of the player but rather a close up picture. Some will say this makes the release boring, personally I think it gives it a classy and serious look and it is a great way to give the collectors an alternative to the Upper Deck monopoly. Each of the five packs will yield one base card, one autographed card and one real game-used memorabilia card (no event used nonsense in this product).
Box Details
Packs per box: 5
Cards per pack (mini-box): 3
Base Set: 100 cards
Price: Between $570 and $650
Check out ITG's Official Product Information
Checklists
-  Base (Print Run 90 for the Silver version, 9 for the Gold version and 1 for the Onyx version)
- Game-Used Memorabilia (Print Run differs from one set to another, see guide below)
-  Autographs
Print Run Guide
Autographs
Future Star Autograph – Silver: 40
  Gold: 10
Future Star Auto and Patch – Silver: 19
  Gold: 1
New Millennium First Rounders – Silver: 40
  Gold: 1
Jersey and Auto – Silver: 30
  Gold: 10
Triple Auto – Silver: 9
  Gold: 1
Double Autograph Double Memorabilia – Silver: 24
  Gold: 1
Dual Auto – Silver: 24
  Gold: 1
Ultimate Auto – Silver: 30
  Gold: 10
Ultimate Stick and Auto – Silver: 30
  Gold: 10
Auto Trifecta – Silver: 9
  Gold: 1
Paper Cuts, Lumbergraphs, Maple Leafs Forever, Marvelous Maroons, Motown Heroes, Bleu Blanc et Rouge, Beantown's Best, Broadway Blue Shirts, Chi-Town Immortals, Amazing Amerks, Builders, Sensational Sens: 1/1
Game-Used Memorabilia
Battle of Alberta – Silver: 24
  Gold: 1
Battle of Quebec – Silver: 24
  Gold: 1
Blades of Steel – Silver: 24
  Gold: 1
City Scapes – Silver: 24
  Gold: 1
Complete Jersey – Silver: 9
  Gold: 1
Complete Package – Silver: 9
  Gold: 1
Cornerstones – Silver: 9
  Gold: 1
Country Wide – Silver: 24
  Gold: 1
Decade Dominance – Silver: 9
  Gold: 1
Emblem Attic – Silver: 4
  Gold: 1
Franchises – Silver: 24
  Gold: 1
Game-Used Emblem – Silver: 9
  Gold: 1
Journey Jersey – Silver: 24
  Gold: 1
Journey Emblem – Silver: 9
  Gold: 1
Game-Used Jersey – Silver: 24
  Gold: 1
Gloves are Off – Silver: 24
  Gold: 1
Net Zero – Silver: 24
  Gold: 1
Net Wins – Silver: 24
  Gold: 1
Net Average – Silver: 24
  Gold: 1
Past, Present and Future – Silver: 24
  Gold: 1
Raised to the Rafters – Silver: 24
  Gold: 1
First Rounders – Silver: 24
  Gold: 1
St. Patrick's Legacy – Silver: 24
  Gold: 1
St. Patrick's Legacy – Silver: 9
  Gold: 1
Stick Rack – Silver: 24
  Gold: 1
Retro Teammates – Silver: 24
  Gold: 1
Triple Logo – Silver: 4
  Gold: 1
Vintage Lumber – Silver: 9
  Gold: 1
Vintage Lumber – Silver: 24
  Gold: 1
All Made to Order – 5 of each inserted
The Breaks
All of the cards below were pulled during our break of 2 boxes. The pictures were taken pack by pack which is why you can see one base, one autograph and one memorabilia card per picture.
Box 1
Pack 1
Joe Thornton 42/90
Michael Del Zotto Future Stars Auto 30/40
Norm Ullman Vintage Lumber 20/24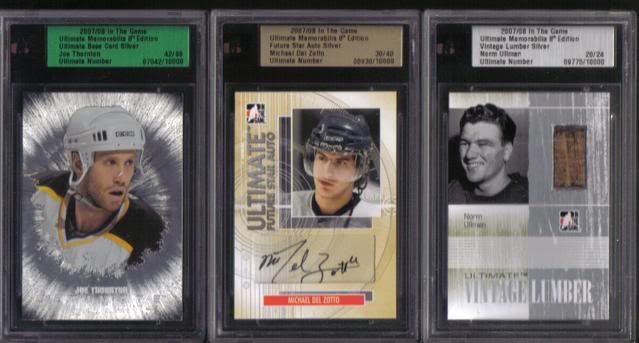 Pack 2
Jari Kurri 2/90
Glenn Hall Jersey and Auto 13/30
Doug Harvey Vintage Lumber 6/9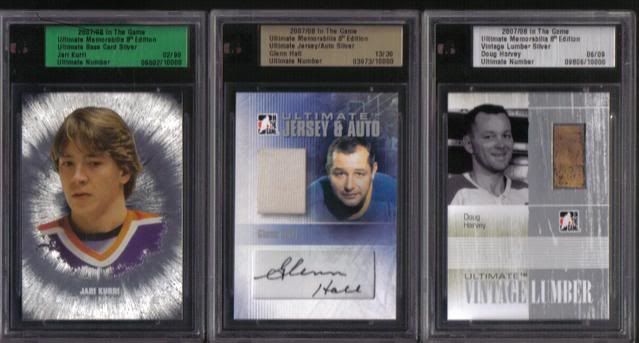 Pack 3
Chris Osgood 1/90
Pavel Datsyuk Game-Used Jersey 23/24
John Tavares New Millennium First Rounders 30/40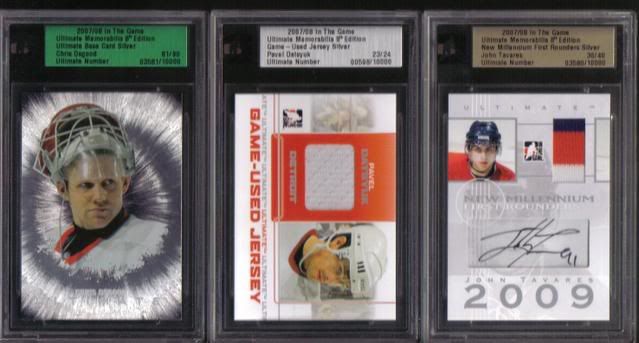 Pack 4
Guy Lafleur 14/90
Peter Forsberg Auto and Jersey 8/30
Sam Gagner Gloves are Off 7/24
Pack 5
Bill Durnan 8/90
Michael Del Zotto New Millennium First Rounders 36/40
Mike Modano / Brett Hull / Marty Turco Ultimate Franchises 1/24
Box 2
Pack 1
Ed Belfour 74/90
Joe Nieuwendyk Jersey and Auto 8/10
Guy Lafleur / Yvan Cournoyer Retro Teammates 10/24
Pack 2
Gary Cheevers 37/90
Chris Chelios Stick and Auto 28/30
Mike Richter Stick Rack 23/24
Pack 3
Ilya Kovalchuk 34/90
Dominik Hasek Ultimate Auto 1/30
Peter Forsberg Country Wide 2/24
Pack 4
John Tavares 63/90
Dominik Hasek / Chris Osgood Dual Autograph 8/24
Peter Forsberg First Rounders 1/1
Pack 5
Jaromir Jagr 45/90
Frank Mahovlich / Johnny Bower Dual Autograph 1/1
Ed Belfour Journey Jersey 7/24
Comments
Overall, these were hugely entertaining breaks. The anticipation and the hopes are running high when you invest that amount of money in a box. Of course, just like with any break, it is a bit of a gamble. You do not know what will be in your box. You could get a 1/1 or not or in some cases, like box two above, you could even get two 1/1. Having busted the first box, I was not disappointed not to get any cards numbered lower than nine. The reason is simple, I got three cards for my personal collection in the box and a memorabilia autograph of the player who will likely be selected first overall at the next NHL draft. Had I not got those PC cards however, this break could have been a huge disappointment. The other down side, to both breaks this time, is that in both boxes, we got two autographed cards of the same player. Michael Del Zotto in the first instance and Dominik Hasek in the second, this is not a problem if you collect those players but if you don't, getting two out of 15 cards of the same player is a bit of a let down. The risk to get duplicate cards in these boxes is quasi inexistent, but it appears that duplicate players are quite possible.
On the bright side, ITG must be congratulated for using real game-used memorabilia, no event used pieces. The back of each memorabilia card clearly state that the piece is game-used and it even specifies which team/country or special event (All-Star game) the jersey was from. You will not be pulling a card and wondering where on earth the swatch came from. In the same line of thought, take a minute to look at the piece of stick pulled in the second box, absolutely spectacular! The spread of colours on the Tavares autographed jersey also deserves a mention considering how big a player this is, it would have been disheartening to get an all white swatch.
Finally, I cannot help but comment on the wide selection of insert sets on offer in this product. From local rivalries to goaltender stats and national pride, you are sure to find something to your taste. My personal favourite is no doubt the "Battle of Quebec" set. I started putting it together as soon as the product came out and I absolutely love the design; the pictures of both players, two swatches and the province's emblem this is a great ensemble and dare I call it a stroke of genius.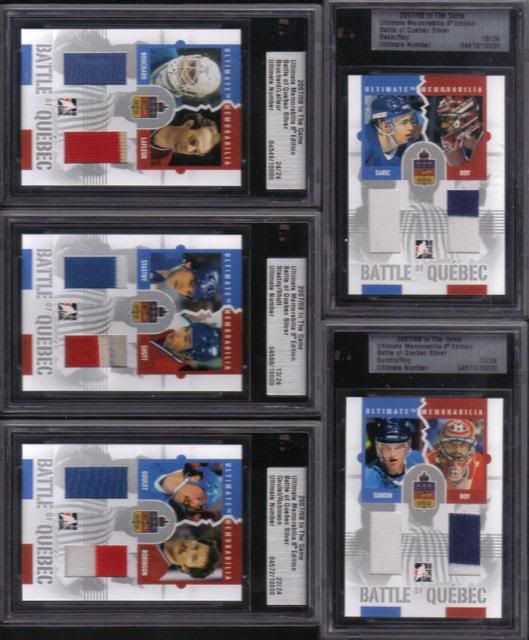 Final Ratings
Overall Design: 5/5
Value: 4/5
Fun: 5/5
Rebuy: 3.5/5
Variety: 5/5
Final Grade: 90%
While I thoroughly enjoyed this break, I know I won't be able to afford to get any more of this product, a crying shame considering how nice it is. However, I might try to put together a few of the insert sets by trading or buying the cards on eBay. This should allow me to get my fix. The product lost points on the value because when you compare the price of the box to what you can get when you sell the cards on, you realize that even though all cards are of a limited print run, it is tricky to make your money back. In closing, I am very pleased I got a box of Ultimate 8 I got some great pulls in there and some sweet cards for my personal collection.