2008-2009 O-Pee-Chee Premier Product Review
By Karine Hains, Editor-in-Chief
Description
While the season is now over in the NHL, the high-end collecting season is only just starting. A few weeks ago, Upper Deck treated us to Ultimate Collection and the have now followed it up with O-Pee-Chee Premier. This year is Premier's sophomore season and if you invested in some of this product last year, you are not in for any big surprises.
As per last year, the design of the cards is polished and efficient, smart and sleek. There is definitely no fault with the overall aspect of the product and it should satisfy the fussiest customers. Unlike last year, the release does not appear to be burdened by quality control issues, that is always good news!
Box Details
Pack per box: 1
Cards per pack: 5
Base set: 42 cards – 84 cards with rookies
Price: $165.99 to $184.99
The release includes several memorabilia and autographs sets such as the Rare Remnants and the Induction Inks. Unfortunately for some, the stitchings are still around and yes, they are still manufactured patches and therefore not game-used. For many, this is fatal to the product, for me I just see it as something different to chase for the players I collect. Of course, they have never worn the patch, but it is nice to have a patch to commemorate Brodeur's 500 wins or Roy's 551 wins. However, I am rather disappointed that Brodeur's 552 wins are not depicted on one of those. In my view, there was enough time between this feat and the release of the product to be able to include it in the set.
The Break
All of the cards below were pulled during our break and are a fair representation of what you could get if you decided to invest in a box.
Card 1 – Martin St. Louis Base 224/299
Card 2 – Mr. Hockey Base Parallel 20/75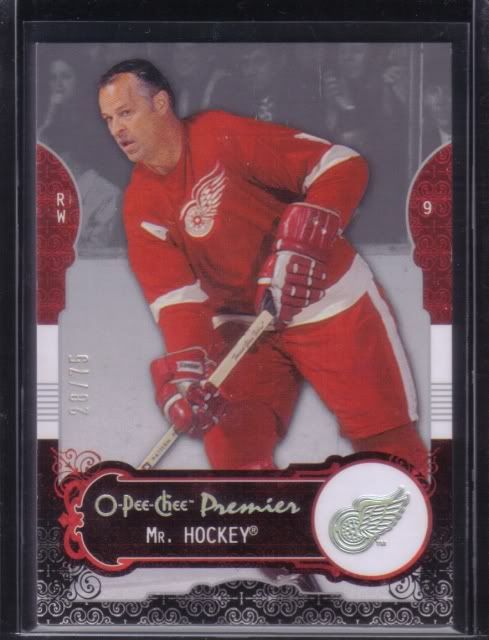 Card 3 – Cory Schneider Premier Rookie Quad-autographed jersey 58/299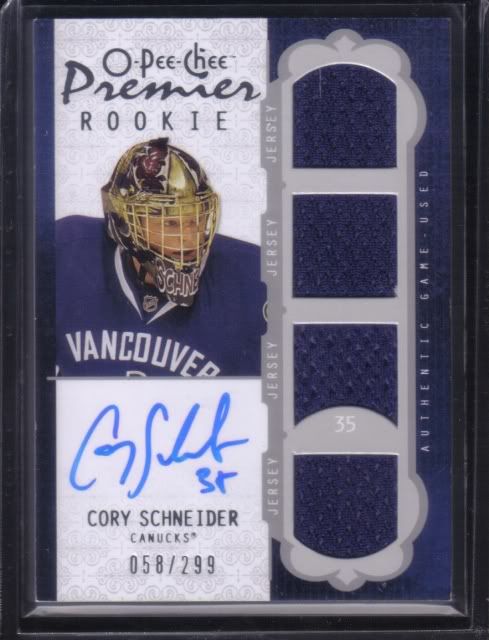 Card 4 – Joe Thornton Premier Stitchings NHL Assists Leader autographed 3/50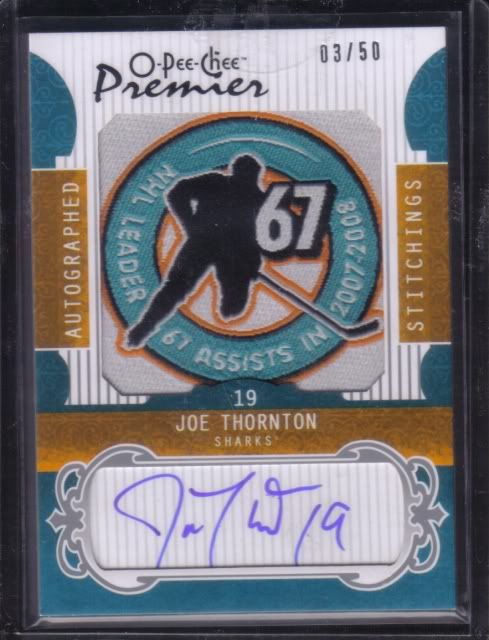 Card 5 – Ryan Getzlaff Penmanship 38/100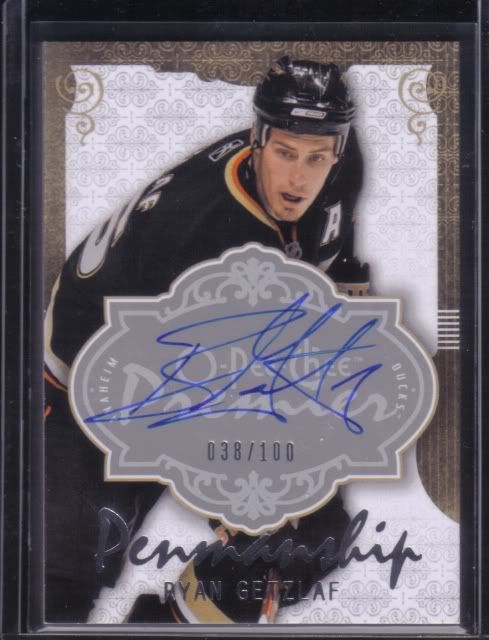 Comments
Overall, this wasn't a bad break but it could definitely have been better. The swatches on the rookie jersey were all of a single color and all were blue. It could also have been interesting to short print some of the best rookies as they are all numbered to 299. A short-print top of the class always helps to increase the chase factor. Of course there are parallel versions of both the base and the rookies. Furthermore, while I have said that I do not mind the inclusion of the stitchings, this is far from being the general feeling throughout the hobby and a pull that seems like it has potential can be very hard to trade. Also, I cannot say that I am a big fan of the "cartoony" looking stitchings, have a look at the one of Ovechkin and you might figure out why he is not signing autographs for Upper Deck these days. On the autograph front, collectors will be please to know that they are hard-signed, as they should be for a high-end item like this one.
There are definitely some very nice cards to chase in this release. I love the look of the Rare Remnants and how they all spell different words or acronyms. The Induction Inks are also a great idea as more and more collectors seem to turn towards collecting Hall of Famers over the younger darlings of the hobby. In the same spirit, there are some gems in the Dynasty Duos autograph set that comprise eight cards all numbered to 100.
Final Ratings
Overall Design: 4.5/5
Value: 3/5
Fun: 4/5
Rebuy: 4/5
Variety: 4/5
Final Grade: 78%
While this was a fun break, it was over quite quickly as is always the case with high-end breaks and it felt somewhat anticlimactic. I do like this product but at this kind of price point, I do feel collectors would be better served by saving their money and shelling out on the real big gun; The Cup which will be descending upon us in July. Another of my qualms with the product is that I have seen numerous bland pieces of jerseys and quite simple patches as well, even very low-numbered one. When selling a product for this amount of money, an effort should really be made on the patch side of things.
No comments yet.
No trackbacks yet.