"Base-ic" Art
By Karine Hains, Editor-in-Chief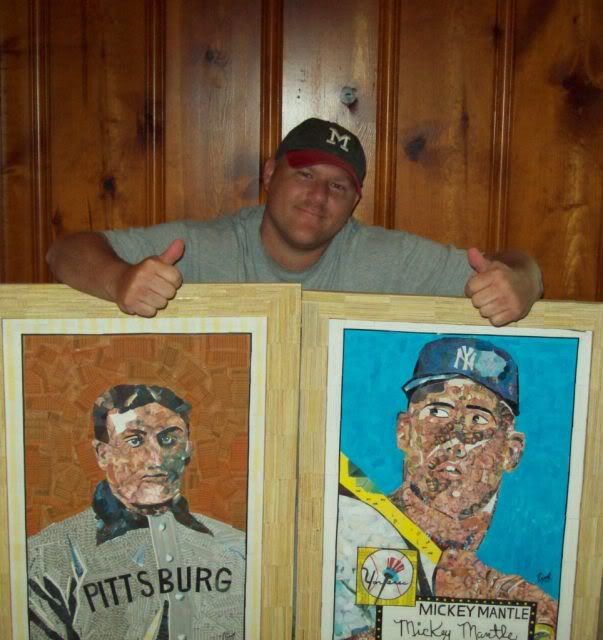 For many collectors, base cards are nothing more than a storage headache. You buy a box forever and always chasing the hits and more often than not, you end up with a vast majority of base cards for which you have no use…While this is true for most people, it isn't for Tim Carroll.
Tim is a baseball collector doubled with a most talented artist. Having been directed to his website by a fellow SCF member, I was amazed at the wonders I discovered…we've all seen the T-206 Honus Wagner Tobacco card, but I bet you've not seen it like this:
This is the Tim Carroll version of the baseball collectors' Holy Grail and what got him started in his current project. Intrigued and impressed by his website, I decided to ask Tim a few questions.
SCF: As a collector, do you focus mostly on baseball?
Tim Carroll: Without a doubt, baseball is my sport. My favorite all-time card is the 1962 Topps #200 Mickey Mantle. My personal collection consists of many commons that belonged to my dad, my ever-growing Hall of Famers game-used and autograph collection, and my player collection: Bill Hall of the Milwaukee Brewers. I do have several sets, and I like putting together the Bowman Draft/Draft Chrome sets every year.
SCF: I know you recently finished a degree in elementary teaching but have you got any professional training in arts?
TC: I was a graphic design major in 1996 at a local community college but I left school after a couple of semesters. I did have the basic art classes there: Design I, Drawing I, Art Appreciation, etc… However, I have enhanced most of my skills by playing around with the different techniques available as you can see on my site. I love playing with charcoal, graphite, paint, ink, and anything else that I may learn something from. I am a huge fan of "American Artist" magazines, and I use the information in those magazines to achieve the desired effects in my own art.
SCF: How did you get the idea to do this type of art?
TC: I have always wanted to fuse art and cards together, and when I realized that it was the 100th anniversary of the Wagner, I knew this was the perfect time. I started asking myself the questions, "What is the major goal of card collecting?" and, "What is the ultimate goal of collecting?" My own answers were, "To trade the cards you do not want for the cards that you do" and, "to get the card that every collector wants to possess." From there, I decided to "trade" the cards I did not want for the ones that make every collector salivate.
SCF: And just like that, an amazing project was born…
SCF: How many projects do you plan to include in your Holy Grail series and do you have a definitive line-up yet?
TC: The series will have two cards from each of the four major sports. The tentative list for the "Holy Grail" series is as follows:
1909 T-206 Honus Wagner
1952 Topps Mickey Mantle
1965 Topps Joe Namath
1935 National Chicle Bronko Nagurski
1986-87 Fleer Michael Jordan
1969-1970 Topps Lew Alcindor
1979-1980 Topps Wayne Gretzky
1911-12 C-55 Georges Vezina
SCF: Which one of your Holy Grail project is your favorite so far?
TC: I still think the Wagner is my favorite, due to the fact that it represents the entire series. However, I am very excited with the detail work of the '52 Mantle. With Namath, the color scheme (credit Topps for that) is fantastic. So, I have parts of each that I really love. The neat thing is; I learned so much about each card as I reproduced them. Although I have seen each card literally hundreds of times over the last 20 years, I picked up on details I was not even aware of. Being able to spend 32-42 hours staring at an image gives a person a real sense of "knowing" the card. For example: I did not know that the letter "O" is present on Mantle's jersey in the 1952 Topps. That is no big deal, but it is indeed there. I have actually had one collector correct me on the spelling of "Pittsburg" on the Wagner. He thought I accidentally left off the "H". That is a big focus in the world of art. You look at things………but do you really see them?
SCF: Do you ever get fellow collectors donating base cards to you so that you can use them in your projects?
TC: It has been great. I have had fellow on-line collectors offering to send me cards. This is an offer that I will probably have to accept eventually, as I am finding it very easy to fly through commons that I can actually use.
SCF: If you wish to donate base cards to Tim to help him in his projects, please drop him an email at timcarrollart@yahoo.com.
SCF: Most collectors these days are after the memorabilia and autographed cards, do you plan on doing some projects including this aspect by depicting a game used or autographed card?
TC: I have considered it, yes. This would be something very long term, as I am really enjoying the concept of recreating the cards that have captured the imagination of collectors for decades. I would love to have the pieces of this Holy Grail series autographed by the living players depicted (i.e. Jordan, Namath, Gretzky). That said I wouldn't mind having an autograph of any of those players in any fashion.
SCF: Have you ever thought about selling your projects? Ever received any offers for them or received orders from people wanting you to reproduce their favorite card?
TC: Absolutely. I have contemplated what the outcome of those pieces would be. I have pretty much decided that I am going to have a charity auction with a large portion of the proceeds going towards a local little league baseball chapter. It will be rewarding to help sponsor a team of players that might not have the finances to play otherwise. As for commissioning work, this is something I have always wanted to do, and this experience is allowing that opportunity. I will have a link on my site very soon with details, but in the meantime, I would be happy to give price quotes. If anyone is interested, they can contact me at timcarrollart@yahoo.com. I would also like to mention that I will not be making more than 1 of any picture/card. I want to protect the integrity of the piece, so each one will be one of a kind. For instance, once I do the '82 Topps Traded Ripken, I may sell prints, but I will not do another.
SCF: Have you ever displayed your work at a card show?
TC: This is something I would love to do! Unfortunately, there has not been a true card show within 125 miles of my home in the last five years. If a major one comes to Memphis or Birmingham in the near future, I may pack up the art and go. It would be a real treat to have a show with an autograph guest. I would create a card of that player just to have it signed – regardless of who it is. I would love to show the art to collectors in person. It is important to emphasize how different the pieces look in person than on the computer screen. You walk away and you see the card. You get up close and you start picking out forearms, batting helmets, jerseys, faces, player names, team names…. one could literally sit there for several minutes just to take it in.
SCF: It would be very interesting to see what kind of reaction and feedback you could get at a big show such as the National Sports Collector Convention…
SCF: How many hours does it take you to complete one project? From the sketching point to the final completion?
TC: The hours given on my site for each piece represent the rounded amount from sketching point to hanging. I make note of the time I start each sitting, and I mark the time when I stop. I then add it up when the piece is finished. I also include the amount of time I use for the frame. Each piece has its own frame that I build. It is made of wood, but I then cover that frame with the border of 1987 Topps cards. This helps tie the frame to the card and makes the art flow throughout.
SCF: You told me that you plan on doing an amazing sports moment series, can you give us details on that?
TC: I am tinkering with several ideas right now. Depending on which cards are recreated through commission, I would like to do four or five more series. One series would consist of key baseball rookie cards from the 1930's through the 1960's (Ruth, Gehrig, Williams, DiMaggio, Paige, Robinson, Mays, Aaron, Clemente, Banks, Koufax, Ryan, and Jackson). Another would consist of key baseball rookies from the 1970's to 1989 (Schmidt, Brett, Yount, Murray, Ozzie, Henderson, Ripken, Sandberg, Gwynn, Boggs, Mattingly, Griffey). One of the series I have considered that consists of ALL sports is the "Amazing Sports Moment" series. It would be series dedicated to the moments that helped shape American sports. I want these pieces to be very large – possibly 4 times the size of my current pieces (24" X 36"). The moments will be the stars. I'm unsure of the entire line-up at this time, but you can bet you will be seeing "The Miracle on Ice", Kirk Gibson's 1988 World Series Game 1 HR, Dwight Clark's catch, and I would love to do one on Jim Valvano's NC State championship.
SCF: What do you say to those who are shocked that you are purely and simply destroying cards?
TC: Fortunately, I have only had one comment about the possibility of cutting something up that could eventually be valuable. However, I have collected since 1987 – so I am well informed of even the slightest variations, etc. Also, I have only used cards from 1985 to 1991 so far – and I would love to stay in that "overproduced" era. The way I look at it is: if we go to a card show, how many times do we see a 1988 Topps Jim Eisenreich in a display case? Never. No disrespect at all intended towards any players I mention (as I would love to be on my own baseball card), but I feel I am finally giving those cards some spotlight. The only reason anyone needs commons from the mid-80's to the early 90's is for set building. Once those sets are complete, the leftovers simply take up space. I am trying to make those cards part of something bigger. It is pretty fascinating to look at the "cards" I have created up close – and then you realize that Jim Gott or Dave Magadan is staring back at you from Mickey Mantle's chin.
SCF: Thanks for talking to us Tim and keep up the good work! Personally, I cannot wait to see your hockey pieces. For more information on Tim and his work, please visit his website: http://www.timcarrollart.com/
| | | |
| --- | --- | --- |
| | Print article | This entry was posted by Pheebs888 on July 11, 2009 at 2:39 am, and is filed under Hobby Articles. Follow any responses to this post through RSS 2.0. You can skip to the end and leave a response. Pinging is currently not allowed. |