The Cup 2008-2009 Product Review
By Karine Hains aka Pheebs888
Once again this year, the release of Upper Deck's (UD) flagship high-end hockey release had to be delayed. Originally slotted for a June release, The Cup was then pushed to an end of July release which would have coincided with the National sports Collectors Convention. Unfortunately, UD wasn't able to make this date either and in the end, the product came out on the 6th August. While there was a fair level of annoyance from the collectors, we were all hoping that at the very least, the product would be worth the wait and I am glad to say that in my view at least, it truly was.
In the hockey world, there is nothing quite like busting a thin of The Cup…Cutting through the outer wrapper, opening the tin, then the inside wrapper on the small box and finally opening the said box to reveal the long awaited cards is quite a thrill! One could even compare it to a ride on Cedar Point's much loved roller coaster: Top Thrill Dragster; it's over just as fast and you have the same adrenaline rush feeling once you're done. If the break was good that is.
Box details
Pack per tin: 1
Cards per pack: 5 to 6
Base Set: 60
Rookies: 90
Price per Box: 349.99 to 390.99
Checklists

-         Base Set
-         Rookies
-         Cup Foundations – Quad Jersey
-         Cup Foundations – Quad Patches
-         Cup Foundations – Auto Quad Jerseys
-         Cup Foundations – Auto Quad Patches
-         Dual Autographed NHL Shields
 Checklist to all parallel sets and Masterpieces Printing Plates available here: http://sports.upperdeck.com/collectorszone/cardsethome.aspx?q=6&sid=52489.The Breaks
As one could expect there has been a lot of The Cup breaks in the last few weeks, to give you an idea of what you can expect in a tin, here are a few of those breaks. To facilitate trades and sales, I will put the user ID of the member who broke the tin and the link to the break thread.
Break 1 – Pheebs888 - http://www.sportscardforum.com/showthread.php?t=880649
Card one: Nicklas Lidstrom Base
Card two: Dany Heatley Base Jersey Parallel 12/25
Card three: Andreas Nodl Rookie Auto Patch 210/249
Card four: Masterpiece Cyan Printing Plate Dominik Hasek
Card five: Signature Patches Blake Wheeler 12/75
Card six: Wayne Gretzky Cup Chirography 7/50
Break 2 – quiet-things & captngeech
http://www.sportscardforum.com/showthread.php?t=879949
Card one: Al McInnis Base
Card two: Jean Beliveau Base
Card three: Grant Fuhr Base
Card four: Dan LaCosta Rookie Auto Patch 90/249
Card five: Brandon Sutter Signature Patches 33/75
Card six: Sidney Crosby Canada Program of Excellence auto /10
Break 3 – captngeech
http://www.sportscardforum.com/showthread.php?t=873914&highlight=cup+break&page=2
Card one: Guy Lafleur Base
Card two: Grant Fuhr Base
Card three: Dustin Jeffrey Rookie Auto 154/199
Card four: Brendan Mikkelson 19/249 Rookie Patch Auto
Card five: Michael Boedker Limited Logo 49/50
Card six: Frank Boucher Legendary Cuts 3/3
Break 4 – Scottkoz
http://www.sportscardforum.com/showthread.php?t=880145
Card one: Rick Nash Base
Card two: Jonathan Ericsson Patch Auto /249
Card three: Sidney Crosby Cup Foundations Jersey /25
Card four: John Filewich Rookie Patch Auto /249
Card five: Mikkel Boedker Rookie Patch Auto /89
Card six: Luc Robitaille Limited Logos /50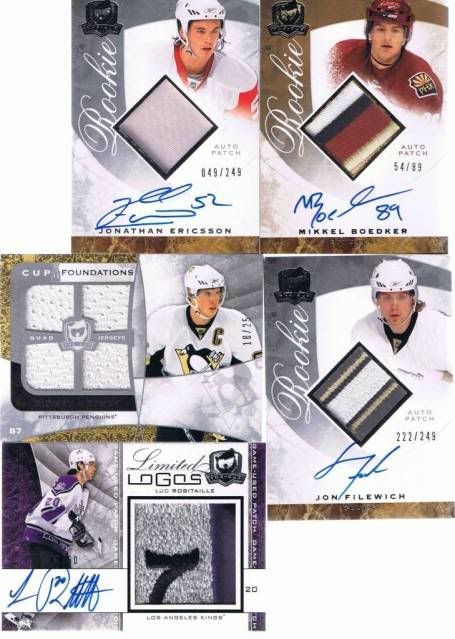 Comments
Once again this year, The Cup oozes quality. Of course, as with everything there are a few kinks. For instance, even with the delay in releasing the product, there are still some redemptions in there. However, I must admit that it looks like there are less than in the previous years and I prefer seeing the product out now than having to wait another month for the last few cards to be ready. Another thing I've noticed as a Roy collector is that UD has made a conscious effort to picture him in the Habs uniform but it is impossible to find any Canadiens patches on Roy cards. All of his patches are from the Avalanche's uniform, which give us some mismatch cards. Having spoken to UD at the Nationals, I do understand that they need to use the stock they have but then perhaps it would be better to picture the player in the uniform they have patches or jersey of. My final negative point would have to be the use of bland patches. This is a very high-end release and all white patches have no place in such a product! I have seen a Brodeur Emblem of Endorsement (short printed to 15) where both swatches are completely white. This is a wonderful card, low numbered and one of the two autographs sets in which Brodeur has put an inscription on the cards (552 wins – the other set being Chirography). To ruin it with a weak patch is unforgivable.
Judging from the breaks I have seen so far, the collation seems rather good; I have yet to see a truly bad break of The Cup. Of course, as discussed above the use of some bland patches has made some break less satisfying than they could have been. Boring patches can be quickly forgiven when redeemed by a Legendary Cut Auto (see break three above) and three base cards in a tin can also be acceptable if you are getting a Crosby autograph numbered to 10 (break two above).
Final Ratings
Overall Design: 4.5/5
Value: 4.5/5
Fun: 5/5
Rebuy: 4.5/5
Variety: 5/5
Final Grade: 94%
It's very hard not to be satisfied when faced with such a product, the .5 deduction on the design mark comes from the use of less desirable patches and the value deduction is justified by the high price tag. Some will say that the value mark should be lower, but have a look on the secondary market and see how well the singles are changing hands on eBay. No one can argue that this is not a fun product to break, it's a massive thrill and even though one would wish it lasted longer, that would mean it being more expensive as well. As for the variety, with so many different autographs and memorabilia set, it's hard to criticize. I especially like the addition of the Draft Day Boards autographs, great new set there UD!
Now that The Cup is out, it really feels like the 09-10 season can start, bring on Upper Deck Series 1 and Artifacts!
| | | |
| --- | --- | --- |
| | Print article | This entry was posted by Pheebs888 on August 23, 2009 at 4:17 am, and is filed under Product Reviews. Follow any responses to this post through RSS 2.0. You can skip to the end and leave a response. Pinging is currently not allowed. |