4600 Miles of Joy and Dreams (and Back)
By Tomi Hanka aka Vonkale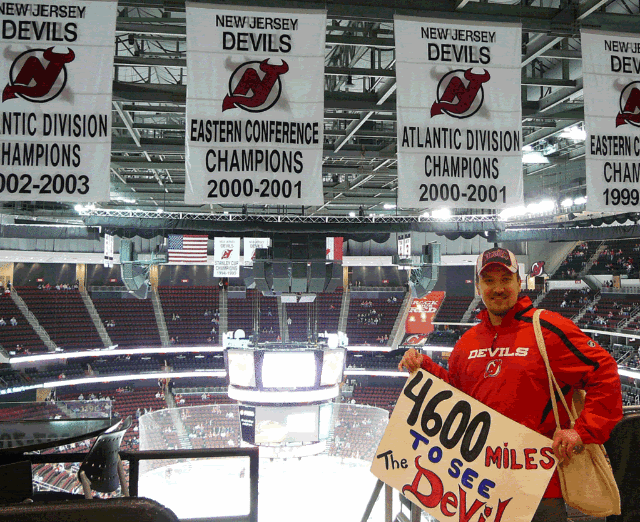 In the early 90s I became a Marty Brodeur fan even before he played his first NHL game. Back then, everyone was picking favorite teams and players. Most of the folks were cheering for Oilers, Kings and Jets here in Finland. Gretzky, Kurri, Tikkanen and Selanne later on…I wanted something different.The Devils had such a great name and logo. For a little kid, those were the most important factors. This Mickey Mouse organisation as Wayne Gretzky once put it picked Marty. As a goalie fan he was the inevitable choice as my favorite player. It was then that I started collecting his cards as well. After his rookie season I decided, some day I'll go and watch him play live and there will be no TV between us then.
The 2003 Men's Ice Hockey World Championships were held in Finland. That year I kind of hoped that the Devils would be outplayed quickly and I might have a chance to see Marty play for Canada in my home country. Well, it ended up being a great season for him and his Devils. I enjoyed watching the playoff run. In a way, I was happy he didn't get to play here.
Finally, after almost 20 years the day finally came…Last spring I had a chat with my two friends and a beer bottle, we decided to set a date and fly over to see him in action. With the clock ticking toward his retirement, it was time to do something. My friends are no hardcore NHL fans, they just enjoy the game in general. No matter who plays and where.As a father of a little girl it took some arrangements to be able to go so far away and I needed to save some money. Here's a summary of our trip…
Our adventure started Monday 26th October at 03:00 AM by a short one hour drive to Helsinki International airport. We had stand by tickets to every flight. First leg was easy; we were told right away that there were seats for us available. So in two hours we were in Frankfurt Germany. There were two options for the next flight. To Philly with US Airways or Newark with Lufthansa. Ended up onboard to Philadelphia. When they announced our names at the gate I already felt like I was closer to Mr. Brodeur. The flight was 9hrs long and I had zero hours of sleep. Thanks to some one year old who had some issues…
Finally we were standing outside Philadelphia International Airport waiting for a shuttle to take us to a car rental agency. We took a proper Dodge Chargerand started driving up along the New Jersey turnpike. I was smiling non-stop and repeating in my mind "I'm actually here now". It felt great.
With a two hour drive, we finally saw the lights of Newark Airport, our hotel right beside it. We checked in, had something to eat and passed out.
After one day of driving around and shopping it was finally THE GAMEDAY! It was raining like hell so we decided not to go to NYC that morning. Just hang around Jersey City and Newark. Four hours before the game we were at the Devils Den and boy I was like a kid in a candy store. After I had spent most of my money, we sat down at the bar across the street. Even beer tasted better from Devils Jar.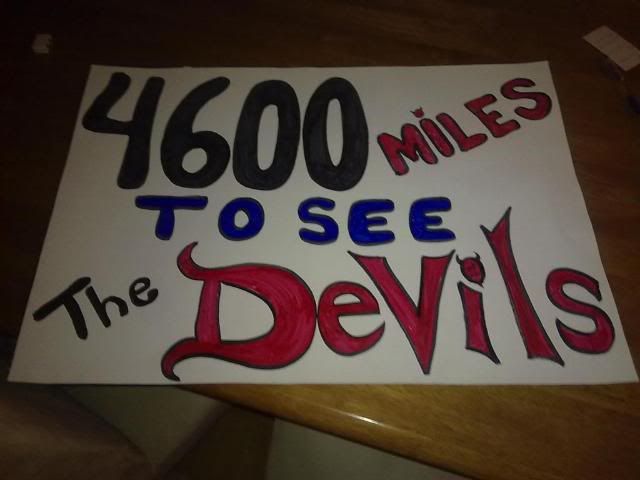 The Devils played against the Sabres at Prudential Centre Newark on this October 28th. Very nice visual in the arena. Pumpkins, costumes and music fitted the theme perfectly. We also got on live broadcast before the game at the Goal Bar. The pre-game show crew saw our sign and got curious. That was nice.
It was a shame that the Yankees played their first World Series game that same night. The arena was half empty and the home team didn't get the support they deserved. The Sabres played a solid road game and Miller and his pipes were the final obstacles for the Devils. The Devils didn't have any idea how to score on their power play and the Sabres' defence wasn't shabby either. Marty made a few good stops but he wasn't spectacular like he usually is… The team in front of him was just that bad. Buffalo didn't even have to pay the price in front of the net. No-one dropped the gloves either…
But hey, I enjoyed it like a little kid. My heart stopped beating when Brodeur led his team on the ice. But I also felt kind of empty after the game.
Wonder why? Maybe because this might had been the last time I see him play live? Coming from a country in which the number one sport is hockey, I felt sorry about the fact that hockey has like zero attention in the United States. They know the teams and maybe the brightest stars but that's about it. If only I lived in North America…
The rest of our stay was spent walking around Manhattan. It was unreal to be in those famous places that I have seen only in movies. The Experience was overall excellent. People were extremely polite and transportation was simple and efficient. What we didn't see was NYC by night but maybe next time! So, a total of over 9200 miles of travelling to get a glimpse of the BEST goalie ever to play the game of Hockey! It was worth doing it…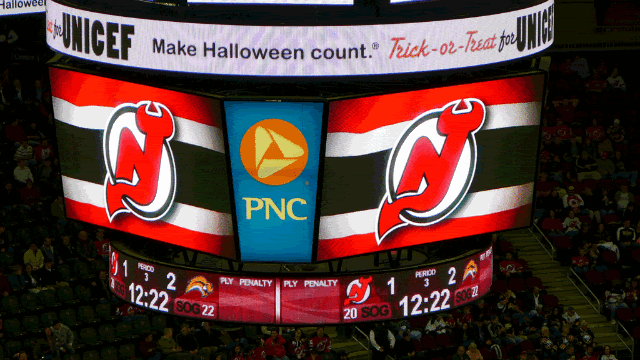 | | | |
| --- | --- | --- |
| | Print article | This entry was posted by Pheebs888 on November 13, 2009 at 3:35 am, and is filed under NHL. Follow any responses to this post through RSS 2.0. You can skip to the end and leave a response. Pinging is currently not allowed. |