Coaching Upper Deck's 2009 NHL Rookie Boot Camp
By Andrew Long aka Samuwry7
Mississauaga, Ontario – 9 A.M., inside the Hershey Center. I alternate my stare between the vacant rink and the rumpled, dog-earred paper with my Upper Deck-approved lines on it. I know them backwards and forwards, and I also know I'll almost certainly improvise beyond them, but for now, it's the only thing to do from being overtaken by nerves.
Nearby, middle managers and minnows of Upper Deck scuttle, making preparations. In just an hour, 14 NHL rookies will arrive to begin shooting the 2009 Upper Deck NHL Rookie Debut Boot Camp, and on the first "action" call of the director, I will be their coach.
Landing the role of Boot Camp coach was not exactly a bolt from Zeus – the process crawled at times, and at other times progress was imperceptible, yet all the while wonderfully agonizing. Really, it began with a failure. Packs to the People was offered a shot at the entire video; that is, we were invited to pitch a concept to Upper Deck to produce a video project featuring the NHL rookies. I found the prospect exhilarating and threw myself into the project, but upon the pitch, my best ideas and efforts were promptly dismissed by UD brass. The laughs I got from friends at my ideas had buoyed my hopes, and made the rejection all the more crushing. Once Upper Deck settled on a concept, however (and unbeknownst to me), supporters of Packs to the People inside Upper Deck began to lobby for my involvement. Nik, the technical brains behind PTTP, and I had just finished a video for Draft Edition Basketball, featuring Los Angeles Lakers Shannon Brown and Jordan Farmar. Apparently, my Upper Deck supporters pointed to it to make their case, that yes, I could work well and improvise with professional athletes. And I knew hockey.
I got a call from Chris Carlin in marketing saying he thought I really could get it. From then on, news of my involvement became a laughable torture. Uncertainty tinged every new development. "It looks like you got it, Andrew." Next update: "We're still waiting to hear for approval." This was followed by Upper Deck emailing me an unbooked itinerary for the trip to Toronto. Once I received that, I called them to ask if it was a lock, because I needed to organize some time off work. "We're waiting for final approval," they said. The VPs had to sign off, or something like that. Then, like parents giving their son anonymous keys to his first car, they sent me a booked flight itinerary to Toronto. And I was on.
About 11:00 A.M., I'm standing on set, which consists of a folding table and Upper Deck photo backdrop, behind one end of the rink, with Group 1, made up of NHL rookies Jared Cowen, Tyler Bozak, Jonas Gustavsson and Mikael Backlund. Backlunds' and Gustavssons' eyes look alert and concerned, as though they are unsure if everything is fine or they are about to be executed. The native English speakers, Cowen and Bozak, look more at ease. They all look fantastic in their respective NHL team uniforms, and if I wasn't under pressure to perform I might indulge my fanboy giddiness. But the curtain was about to come up, and I wasn't going to lose focus.
The vignette we're about to shoot will feature the rookies learning to sign autographs, with giving them the business expected from a drill sergeant. Upper Deck sent me an outline of the three basic vignettes that involved me: this autograph one, scoring celebrations, and "Mascot Reverence," a segment on how to treat mascots properly. They wanted some kind of script or idea of what I was going to say for each section beforehand, which needed to be approved by UD brass. After some hard thinking and workshopping with a writing buddy, I fulfilled their request, and they wrote back some very nice comments, sounding very satisfied with what I had produced.
I take my place as instructed while Jon Magnusson, the director, gives some last-minute direction to Bozak and Backlund, the first two rookies to be shot at the autograph table. I take one last look at my cheat sheet, fold it up and put it in my pocket, feeling as tight and as nervous as I ever have. Everyone is set. The crew settles in and holds their angles, and the director yells the word that, up until that moment, to me, was merely a Hollywood cliché.
"Action!"
And I act. With fervor, I give the rookies a rehearsed line, and continue for a moment, improvising harsh instruction and riffing on the boys.
"Cut!"
And then, the on-looking Upper Deck employees, employees of the NHLPA, and a few other assorted spectators, laughed.
Thank God.
I immediately feel better, and each ensuing take brings new ideas and confidence. In the midst of shooting, however, Terry Melia, Upper Deck Public Relations manager and my "handler" for trip, leans in to tell me something.
"The NHL wants you tone it down a little with the guys," he says. "Don't be derisive, don't say anything too personal. And try not to yell quite so loud."
"The NHL just spoke with you?"
"Yeah, they said something," Melia said.
Awesome, I think. The NHL sensitivity and displeasure amuses me, and I can't wait to tell friends. I'm also being directed by the league – fantastic. Despite my amusement, I try to accommodate their wishes. However, in the heat of the subsequent scenes, I don't think about their wishes once. We finish with Bozak and Backlund, do some slightly different takes at the autograph table with Gustavsson and Cowen, and then we adjourn to the ice to do the scoring celebration vignette.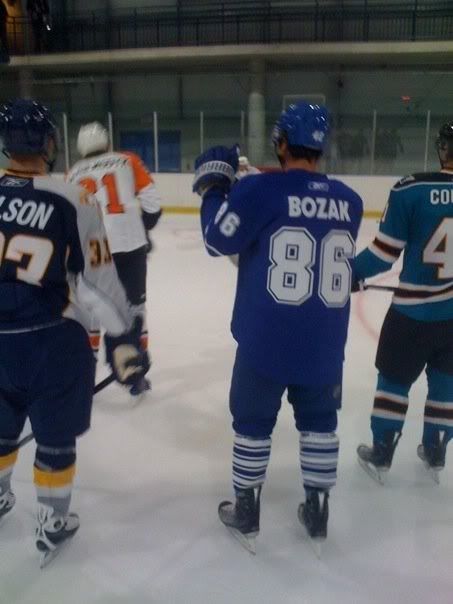 On the ice, Magnusson signals to Terry Melia and the assistant director, a local Toronto videographer named Denise. Denise is probably on the back side of her 30s, but looks great – a total cougar. Though I am not beckoned, I'm certain that I should be in the huddle, so I skate over and listen in.
At this point, I should mention that before shooting, I showed Magnusson my lines for each segment, and it was apparent that he had never seen them before. This was a surprise to me, since Upper Deck had requested them. The director usually knows the script. I kept my surprise to myself and went through them with him, quickly. Some of the lines he liked, some he didn't, but for each vignette there was something that he gave a thumbs-up on, so I felt OK.
In the huddle on the ice, as I listened to how he wanted to shoot the next segment, it became clear that I was not going to be in it. At this, I was a bit miffed, and concerned. What else was I out of? He was in charge, and I followed his lead, but I wanted back the time I had spent working out lines for the segment. The upside to my new free time was getting to pass and shoot with other rookies waiting to be photographed or do their scenes for the video. I felt timid, shooting in the company I was in. As I told an Upper Deck employee, it felt like I was doodling in front of Picasso. Bozak, Backlund, Gustavsson and Cowen finished up and Group 2 was called to the autograph table.
It's almost noon when Group 2 takes their positions at the autograph table, and I feel the nerves return. Group 2 consists of the true stars of the video: 2009 1st overall pick John Tavares, 2nd overall Victor Hedman, 3rd overall Matt Duchene and 2008's top pick for Vancouver, Cody Hodgson. I had to be absolutely excellent.
Upper Deck recruited a smoking hot girl, who had now arrived, for the autograph vignette. There wasn't a man among us who wouldn't punch his mother for a night with her. Tavares especially seemed taken with her. We filmed new scenes for the autograph vignette, in which Tavares and Duchene are distracted by her passing hotness. Fortunately, between the lines in my pocket and the stuff off my cuff, the director seemed happy with the material we were getting.
Tavares and Duchene were not afraid to challenge me, to dish some lines back, and this gave new life and depth to the comedy. On occasion, they'd even get me to flub an improvised line or two. In one take, after I yell at them for not being tough enough to continue signing autos through their wrist pain, Duchene tells me that he thinks it might be medically dangerous. I respond, with mile-a-minute-speed, "Look, I know when it's dangerous. This isn't dangerous. Before I started coaching, I went to law school."
"Isn't that something you'd learn in med school?" Duchene asks calmly.
"Yes, it is," I laugh, breaking character. The director yells "Cut!" but everyone shares the laugh. Duchene had a great attitude throughout. I had a line written to tell the rookies to use soft hands, something I'd borrowed from The Mighty Ducks, and I wanted to say the line with my nose stuck into the side of his head. I asked him if it was OK.
"Oh yeah, man," he replied. "I love this, I'm good for this stuff. Go ahead." We shot the scene, and it made the final cut. It's one of my favorites. Hedman and Hodgson did their scenes next, and fortunately, through the course of shooting, we get good takes to feature both of them, too.
We finish with the boys at the autograph table, and go onto the ice for goal-scoring celebrations, and also to do the mascot vignette. Again, despite having well-thought out, Upper Deck-approved lines ready, Magnusson merely has me do a brief cameo in the mascot scene, which could've been much better. The mascot vignette features the Upper Deck mascot, Coach Cardman, getting hit by Jonas Gustavsson (who looked downright bored until being called over to do it) and Victor Hedman. In the scene, Hedman absolutely destroys Cardman with a check along the boards, and it actually broke the costume. Cardman's plump, fluffy look is due to an internal fan which keeps the costume filled with air. Hedman's hit ripped a hole in Coach Cardman, with the consequence that the costume would occasionally deflate slightly. When this would happen, Cardman's head would fall to the side, making him look curious. It was equally funny to watch the actor inside the suit attempt to correct this by straightening his head with his hands, only for it to fall over once he let go. I heard the event planner on the project later gripe about it, complaining that it cost $8,000 and her department wouldn't have the budget to fix it.
Lunch is called. During the catered lunch, Magnusson finds me, and says casually, "We've got enough of the autograph, mascot and celebration stuff. You're the creative guy, why don't you come up with a few more vignette ideas for after lunch?" I nod, stunned.
He lists off a few suggestions, and I struggle to brainstorm past my prevalent thought – "Why couldn't this have been mentioned earlier?" But I am the creative guy, and I'm determined to succeed. We decide on vignettes for taping sticks and lacing skates, even though they make little sense in the context of the video.
After lunch we resume shooting with Group 3, comprised of Logan Couture, Eric Tangradi and P.K. Subban. We decide Group 3 will do the skate laces vignette, and though the concept is loose and I'll be relying solely on improv, I feel focused and confident. The plot is simple: Couture and Subban tied their laces correctly, and Tangradi didn't. When I deliver my first outburst at Tangradi, Subban laughs and seems a little surprised.
"That was good," he muses. Maybe I can pull this off after all, I think.
The laces scene is shot in a breeze, and with the extra time, we have time to improvise another vignette. I suggest that the boys be caught by me screwing around, doing limbo. Magnusson looks apprehensive, perhaps considering the camera logistics, but the boys are into it. We shoot it, the whole time enjoying ourselves. Tangradi and Subban make everything more fun. The three take the ice to shoot their celebrations and some other little bits, while I shoot more pucks and marvel at Duchene's tricks. They finish and Group 4, the last group, is called off the ice.
Bobby Sanguinetti, James Van Riemsdyk and Colin Wilson shoot the last vignette, "Taping Sticks," quickly and easily. They're all pretty agreeable, and Wilson especially seems game. I've heard the hype on Van Riemsdyk, but the highly touted rookie turns out to be somewhat shy and quiet. We only do a few takes, but the director seems satisfied and they move to the ice to shoot their on-ice segments.
We finish the day by shooting the introduction to the video, with me introducing and Cardman looking cute. Once that's done, the crew strikes the set, and starts to collect gear. However, the rookies have all come back onto the ice to shoot and practice, and there is no way I'm leaving the ice now. I shoot and skate with the boys for 20 or so minutes, before Terry Melia calls me over and says, "The NHLPA wants you off the ice."
"They do?"
"They said, 'Get the coach off the ice.'"
I left the ice smiling. I couldn't wait to tell my friends.
Discuss this story in our hockey forum!