Card of the Week: 2007-08 Topps Tracy McGrady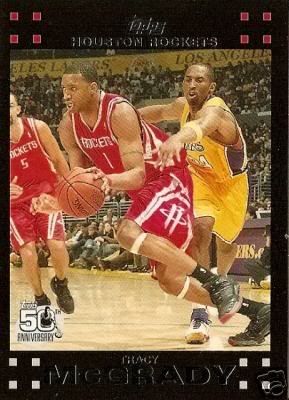 They've won 21 straight games. And he is the leader of their team.
Tracy McGrady is back to his old form. And he is experiencing a spike in card demand.
As the Rockets go into a rugged five game stretch, one has to wonder if they can continue the streak. I would say that is not going to happen. However, I don't think a loss will really hurt McGrady's demand.
The only thing that probably will is if he gets hurt or the Rockets tank in the playoffs. That being said, I wouldn't be buying up McGrady right now either. He is aging and has shown inconsistentcy during his career. I don't see this revival going in to next year.
What makes it even better is that Kobe Bryant is in the background, and the Rockets play Kobe's lakers on Sunday.
No comments yet.
about 7 years ago - No comments
By Michael Barton aka MonticelloCards As someone who began collecting cards in 1986, I have seen this hobby change on numerous occasions. I have had wonderful opportunities in this hobby – from working shows as a teenager to being in charge of the entire sporting collectibles department of a hobby shop. To keep it brief –…