Do You Remember How the Future of Baseball Cards Looked? Part Two
Does anyone remember way back in the late 1990s when companies tried to capture the idea of a futuristic baseball card? During this series, I will try to recapture some of these great sets in hopes of bringing some of you back to those days of collecting.
From the years 1995-1999, each company produced several sets that captured this spirit. So let's take a one tank trip down memory lane and rediscover some of these lost sets. 
This is part two of the series which will be three or four parts long.
4. Circa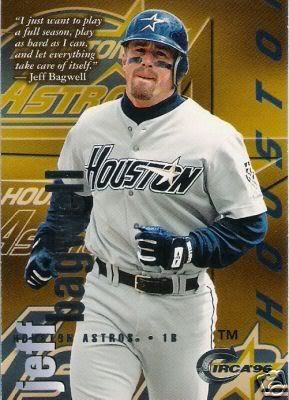 In 1996, SkyBox came out with a new set called Circa. The initial release was only a preview of what was to come in 1997 though. Circa brought about some new ideas in card design including an all lowercase name and a background completely showing the teams logo and colors. They also put a colorful quote of each player on the front of the card.
In 1997, Circa showed its full potential in only its second year. Each card featured a hole ripped in the background with lightning bolts all around it. This is a similar tactic to what SkyBox used in the Metal Universe cards without the embossed foil. The quotes stayed but the design of the names changed. The player's whole name is in all caps at the bottom in silver foil and the last name is in bubble letters at the top in a wavy pattern.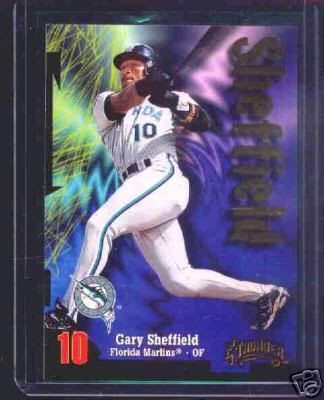 Circa took a downfall much like Metal Universe did in 1998 when they changed the set name to Circa Thunder. The backgrounds changed to random seismic-like backgrounds which were cool. There was also a lot of streaking, zagging lines on the left side of the background that added to the fell of the futuristic idea. The names also reminded me of what I featured for EX yesterday.
5. UD Ionix
UD Ionix was one of the greatest futuristic sets of this era. It all began in 1999 with the first high quality release of UD Ionix. These were the shiniest cards on the market outside of Chromes and Upper Deck HoloGrFX. With a two-toned jagged border on the right and bottom sides of the card and streaking lines protruding from the center of the card, these cards had a very futuristic feel. There are always circles etched within the foil background.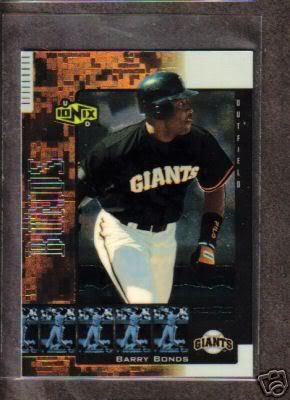 In 2000, UD Ionix upgraded its future feel by integrating a computeresque pixel formation on the bottom, left, and top borders. The name and several small circles are etched into the foil on this issue. However, this was as far as UD Ionix was able to run. The cards were interesting, but they never really caught on while competing for autographs, game-used, and hall of famer based sets that were joining the market.
6. Pacific Invincible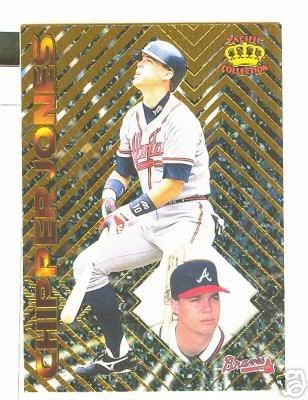 Pacific Invincible was the set that launched off off the Pacific Prisms Insert sets. In 1997, the base set was called Pacific Prism. The cards give a futuristic feel through their gold jagged circles and transparent window where the players face is.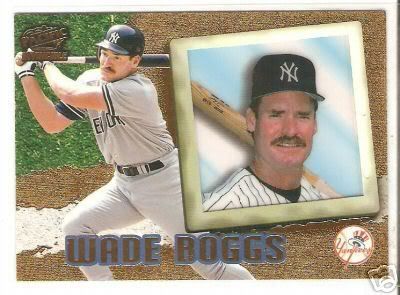 In 1998, Invincible was introduced, but it took a step back from the futuristic feel. The background was a baseball infield. However, the transparent window stuck around giving hope the future feel would return.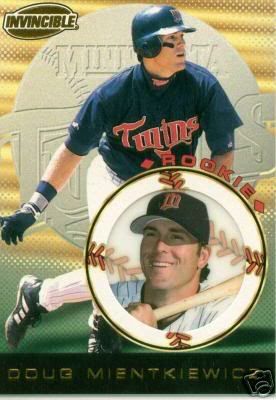 1999 Invincible was an interesting set. It didn't have too much of a future feel, but it also didn't feel original. The transparent window stayed but represented a baseball which is old-school instead of new-school.
In 2000, Invincible took a step forward in their last year of existence. Each player was featured in front of a blue transparent background. The Invincible cards mixed old-school and new-school well as they featured a Wrigley Fieldesque frame for each player's photo.
As I said before, there will be more of these articles coming. In the end, I would like to have a vote to see what people's favorite futuristic style sets are. If it goes well, perhaps I will focus on other theme based sets from other eras.Thanks and I hope you enjoyed this one tank trip down memory lane.
No comments yet.
No trackbacks yet.
about 8 years ago - No comments
By Michael Barton aka MonticelloCards As someone who began collecting cards in 1986, I have seen this hobby change on numerous occasions. I have had wonderful opportunities in this hobby – from working shows as a teenager to being in charge of the entire sporting collectibles department of a hobby shop. To keep it brief –…