National Baseball Card Returns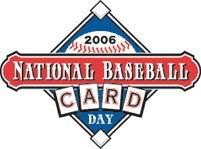 2006 NBCD Logo 
After a one year hiatus, National Baseball Card Day is back on the hobby map with a new multi-brand card set scheduled for release tomorrow, March 29th.
The cards will be distributed nationwide for free to collectors at participating hobby shops, Toys "R" Us stores, and at mlb.com.
"For the second time, MLBP, MLBPA, Topps and Upper Deck will give hundreds of thousands of fans the chance to own an exclusive set of baseball cards and engage in one of the most time-honored traditions of the game," said Colin Hagen, Vice President, Licensing, Major League Baseball Properties. "We're also proud to have Toys "R" Us stores nationwide, as well as local hobby shops supporting this ever growing program."
Each pack will contain 12 cards and an information card. Including in the 12 will be five Topps cards, five Upper Deck cards, and one rookie chase card from each company.
 The checklist is as follows.
Topps Base Checklist:
Alex Rodriguez
David Ortiz
Ryan Howard
Vladimir Guerrero
David Wright
Topps Rookies Checklist:
Joey Votto
Clay Buchholz
Daric Barton
Upper Deck Base Checklist:
Prince Fielder
Albert Pujols
Derek Jeter
Ichiro Suzuki
Ken Griffey Jr.
Upper Deck Rookie Checklist:
Ian Kennedy
Chin Ling Hu
Luke Hochevar
Each pack only contains one of the Rookie inserts so you will probably have to on Sports Card Forum and trade with other members in order to completely finish the set.
The Topps cards are designed exactly like 2008 Topps with the National Baseball Card logo in the top corner.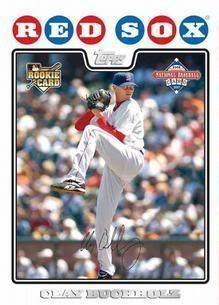 The Upper Deck cards are featured in the same design as the first release of National Baseball Card Day.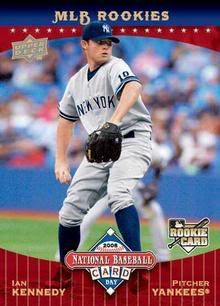 Last released in 2006, National Baseball Card Day sets are used to try to encourage youngsters and general baseball fans to begin collecting cards: a big reason why these cards are free.
MLB Properties has said there has been a 20% increase in card sales over the past two seasons, which was when the industry went from three to two brands. It was also the year companies began using the RC logo on their cards.
KidSay Tracker says that 47% of children aged 8-12 consider themselves baseball card collectors.
This spike can also be contributed to the first National Baseball Card because sales on cards spiked after the first release.
And this season, the cards are nearly corresponding with Opening Day which should add to the sales. After receiving your first cards fro free, what kid isn't going to want a pack of cards when they go to the Opening Day game at the stadium?
Of course not all kids are that lucky, but hopefully they will want to buy packs of cards at Wal-Mart instead of the new first person shooter.
Cards are far safer than this type of entertainment. Cards can be educational, interactive, and friendship builders. They also can teach money budgeting and other responsibilities.
So take your kids, or yourself, out tomorrow, and see if you can't start a baseball card collection or two.
No comments yet.
about 7 years ago - 6 comments
By Karine Hains Collecting used to be a hobby, it used to be all about fun but lately it just seems like it is a big business which is solely about the money. Personally, I collect two players Patrick Roy and Martin Brodeur. For the hockey fans amongst you, you are very well aware of…