Hockey Fever: Then & Now
Guest article by Hockeygrampy
Well, I realize that today, many of the current hockey card enthusiasts are probably youngsters!  And believe me, that's a good thing!  I know that it was when I was a youngster growing up in the Boston area!  My dad, who was a hard-working laborer in those days, struggled to take care of his family.  He would shop at the famous Boston "open air" discount market in the North End a couple of times each month and always looked for bargains in the local supermarkets.  This is what he did to help make ends-meet.
But because dad was born in Red Bay, Labrador, he grew up watching kids skate on their homemade backyard ice patches.   So when he moved to the United States in the mid 1920′s, hockey was already in his blood!
After getting married and starting a family in Massachusetts, dad would "splurge" once a year and take us all to Boston Garden for the annual Bruins game on New Year's night!  Of course we sat way up in the "rafters".  But we all sure appreciated the special treat!  This yearly event as a kid got me "hooked on hockey".
In 1965, just a few years out of high school, I got married to a gal with whom I had taken piano lessons as a kid.  I quickly shared the joy of hockey with her and got her hooked, just as my dad did to me!  Soon enough, we had season tickets to the Bruins. 
Luckily, we did in 1966, which was the year Bobby Orr graced us of his presence in Boston!  I will never forget the embarrassment that Orr showed when he jumped on the ice that memorable night to a standing ovation!  His complexion turned crimson red, as he was surely not used to such a welcome coming from small-town Parry Sound, Ontario!
My season ticket buddy, Ernie Zimmerman, with whom we shared adjoining seats at the old Garden, was a strapping 6'7″ guy who somehow landed the position of "equipment manager" for the Chicago Blackhawks whenever they came to Boston to play.  Needless to say, he got to know all the Bruins players fairly well.  He would sometimes invite me to join him for afternoon practice sessions at the Boston Garden, followed by a few "cold ones" with the players at one of the bars across the street from the "Gahden" (as pronounced by the locals).  I distinctly remember meeting Bernie Parent one of those times, but that is the only depth to my blurred (and star-struck) memory.  Interestingly enough, that was the only year he spent with the Bruins and went on to bigger and better things in Philadelphia.  This would be an important piece of the puzzle, which will be explained later.
One day, Ernie approached me with a little item which I happily accepted at the time. But I had no idea of its worth/value in the years ahead!  He presented me with a Bruins NHL puck, which was taped on one side (with white stick tape).  The taped side has 13 Boston Bruins autographs clearly visible!  On the "sweet spot" was the signature of rookie Bobby Orr!  Can you imagine?  This highly-touted rookie from Parry Sound had actually signed a puck for "little 'old me"!
Okay, long-story-short!  I still have this puck!  I had initially held on to it for a few years, and then handed it over to my dad for all his sacrifices when I was a kid.  He was still a HUGE Bruins fan, so I thought it was fitting for him to have it!  He was in awe of the puck and quickly hid it away in a bedroom top drawer!
But in later years (as he approached his 80′s) during one of my visits, he handed me the old plastic bag containing the Bruins-signed puck!  It had yellowed a bit as after all; it was now some 30 years old.  He explained that he felt it was time for me to have it back in case something should happen to him.  Sadly, a dozen years later, he passed away.
While still living in New England, I had emailed a question about my puck's estimated value to a syndicated sports columnist, "Babe Waxpak" (Bill Wagner, Redding, CA).  A few weeks later, I opened the Sunday sports section to a headline, "Orr-signed puck from rookie year could fetch big bucks"!  This was back in January, 2006.
Shortly thereafter, I decided to have the puck and its signatures authenticated!  Having been given this item decades before "authentication" was necessary or even a way-of-life, I wanted to be sure it had the proper documentation to prove this most-treasured item authentic.
PSA/DNA swiftly authenticated the autographs and cited the year of signing (1966/67) as the only time it could have happened.  Strangely, it was Bernie Parent's autograph which proved the year it was signed (citing his only year he and Bobby Orr played together)!  How strange that the one and only guy I remember meeting after that practice in Boston (Parent) would be the one to absolutely prove what year my puck was autographed!
Today, the puck sits enclosed in a shadowbox behind museum glass in my home office, complete with a color photograph of the 1966 Boston Bruins!  It is considered very valuable by many, but is clearly "priceless" to me!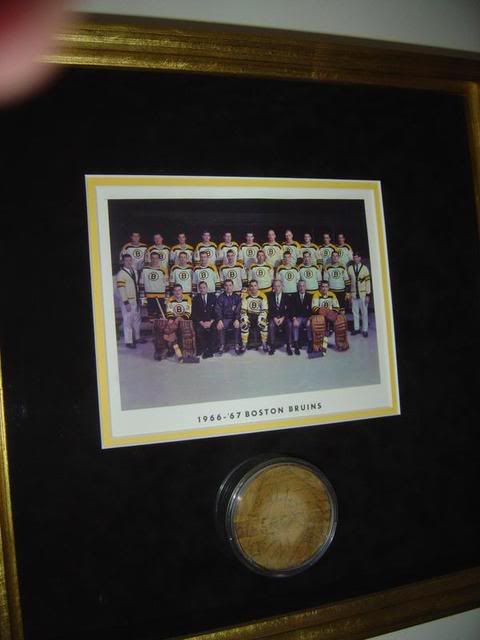 But my signed puck is also a daily reminder of one of the best times of my life!  Although it happened over forty years ago, it is fresh in my memory!  Honestly, it seems like yesterday!  So, bring your favorite item out of the closet….display that card signed by your favorite player!  Make sure you keep them in plain view to remind yourself of this time in your life.  After all, these are the memories that you will have forever!  And no one can take that away from you.