2008 Bowman Sterling Football Card Product Review
 Guest article by Brads55

The box itself was a little deceiving, all awkward looking as if it might have been damaged in shipping…. But once you bust the plastic and flip the top open you spot these interesting 6 individual packs within the box causing the outer box to look distorted….. The growing suspense of opening the wrapper of the box and then the individually wrapped mini boxes and a sealed pack inside of them to get to the cards is almost too much anticipation to handle … but every second was worth the wait!
Description
Every card in the set is made on the typical bowman sterling glossy silver stock. The base set consists strictly of rookies and the players are featured in their NFL jersey with the RC logo located either to the left or the right side of the players last name; which is centered on the bottom of the card with the team name above that. It's a very classy set, as it is every year.With the base cards looking this nice what would the parallels be like?
Here we have the standard jerseys of the sets. They are on the same glossy silver stock as the base cards are on but with a piece of  jersey centered on the card under the player's picture and just above his name. In the cards we pulled, it was interesting to note the special color jersey in the Terrell Owens card.

Now the parallel version of the standard jersey is the refractor jersey. These cards explode with color as light bounces off their surface.
There are also colored parallels of the standard jersey. You can see below both the blue background version and the green one.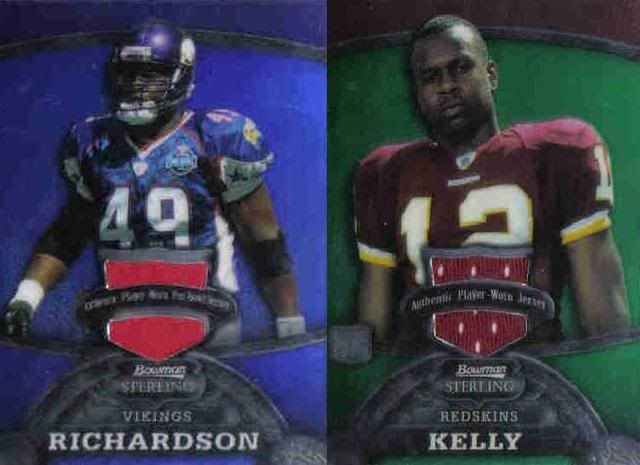 Now I know a lot of you are interested in autographs more so than relics so feast your eyes upon the standard autos in the set. Looks exactly like the base cards except for the autographed sticker over the name. These can also be pulled in a refractor version which is gorgeous and full of vibrant colors.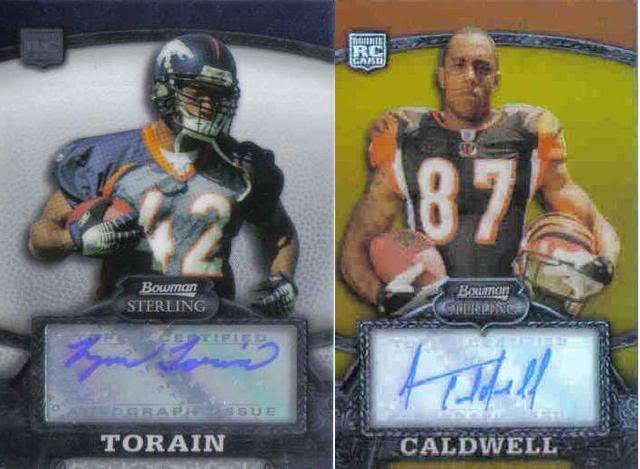 To beat that there are randomly inserted gold refractor autos numbered to only 25. To me, they too closely resemble the refractor autos as we pulled two Aldridge rc autos, one /1,090 and one /25. As you can see they look the same aside from the subtle difference in the sigs.Wondering how you can possibly top a gold rookie refractor auto numbered to 25? Well we also pulled two seed refractor jersey autos.These cards are simply incredible!
Box Details
There are 6 packs per box with 5 cards per pack and a total of 30 cards per box.
This is a 195 card set including : 50 rookie cards, 50 veteran memorabilia cards, 40 autograph rookie cards, 30 rookie memorabilia cards, and 20 autograph rookie memorabilia cards.
Each box contains twelve memorabilia cards and eight autograph cards.
Parallel sets:
Refractor (#'d to 199), Black (#'d to 50), Gold (#'d to 25; also numbered: Autograph Rookie, Veteran Memorabilia, Rookie Memorabilia, and Dual Autograph to 400 inserted one in per 24 packs on average),Red (each is a 1-of-1), and Framed Printing Plates (each is a 1-of-1).
Every 5-cards pack contains guaranteed value
- 1 Autographed Rookie Card
- 1 Rookie Relic Card
- 2 Rookie Cards
- 1 Veteran Relic Card
Every 6-packs box contains guaranteed value
- 2 Rookie Autographed Relics
- 4 Rookie Autographs
- 12 Veteran and Rookie Relics
- 2 Autographs and/or Printing Plate
Every 4-box case contains guaranteed value
- 1 Dual Autographed Gold Refractor
Every 8-box pack contains guaranteed value
- 2 Dual Autographed Gold Refractors
Content breakdown
Base cards
- Rookies (50) – 2 per pack.
- Autographed Rookies (40) – 1 per pack.
- Rookie Relics (35)
* Autographed Rookie Relic Variations (20) – 1:3 packs…2 per box!
- Veteran Relics (50) – 1 per pack!
Refractor parallel cards (195)
- Red – All one of one!
- Gold – #'d to 25.
- Black – #'d to 50.
- Refractor – #'d to 199.
Dual autographed gold refractors (20 cards) – 1 per 4-box case! 2 per 8-box case! numbered to 400
Checklist/scouting report – 1 per case as a case loader
Autographed cards and printing plates – 2 per box! a combination of any of the categories listed below:
- Gold Rookies (30)
- Gold Rookie and Veteran Relics
- Dual Autographed Gold Rookie Relics
- Framed Autographed Rookie Printing Plates (40 subjects/160 plates) – All one of one!
- Framed Relic Printing Plates (35 subjects) – All one of one!
- Framed Printing Plates (50 subjects/200 plates) – All one of one!
The box break
Pack 1
Base : 3 – Brandon Flowers (RC)
Base : 15 – Quentin Groves (RC)
Jersey : 162 – Malcolm Kelly (RC 221/299)
Jersey Refractor : 74 – Randy Moss (82/199)
Autograph : 121 – Anthony Aldridge (RC 561/1,050)
Pack 2
Base : 4 – Tracy Porter (RC)
Base : 47 – Kenneth Moore (RC)
Jersey : 155 – Jonathan Stewart (RC)
Jersey Multi-color : 76 – Terrell Owens (123/389)
Auto : 125 – Ryan Torain (RC)
Pack 3
Base : 31 – Tavares Gooden (RC)
Jersey : 166 – James Hardy (RC 160/569)
Jersey : 82 – Edgerrin James (83/349)
Auto Refractor : 121 – Anthony Aldridge (RC 23/25)
Auto Jersey Refractor : 52 – Tom Brady (13/20)
Pack 4
Base : 6 – Terrence Wheatley (RC)
Base : 27 – Branden Albert (RC)
Jersey : 82 – Edgerrin James (66/389)
Jersey Refractor : 149 – Matt Forte (RC 156/199)
Auto Refractor Redemption : Chris Long
Pack 5
Base : 12 – Lawrence Jackson (RC)
Base : 35 – Ryan Clady (RC)
Jersey : 89 – Tony Richardson (RC 135/349)
Jersey : 151 – Darren McFadden (RC 227/309)
Auto Jersey Redemption : Chris Johnson (RC)
Pack 6
Base : 1 – Leodis McKelvin (RC)
Base : 46 – Jermichael Finley (RC)
Jersey Refractor : 94 – Terence Newman (RC 123/199)
Auto : 160 – Andre Caldwell (RC 251/1,080)
3 color breaks patch : 158 – Jamaal Charles (RC 68/299)
Comments
Overall, we were shorted one of the 20 'guaranteed' hits, I'll therefore be contacting Upper Deck with a letter and my UPC code and they should replace it. We also had a couple redemptions which we hope will come in. In any case I give the break a 10 out of 10. What more can be asked then pulling a Brady /20 jersey/auto, McFadden rc jersey, and a Chris Johnson rc jersey/auto? We were smiling through the entire break and went back and purchased a second box which is now incoming.
Final Ratings
Overall Design : 5/5
Value : 4/5
Fun : 5/5
Rebuy : 5/5
Variety : 5/5
Final Grade : 96/100
It seems to me that we've had one of the best breaks when I compare to the other videos I watched. Lets just wait and see what our reaction will be on the next box of Sterling we bust.