NHL 2008-2009 O-Pee-Chee Product Review
By Karine Hains,  Editor-In-Chief
Normally, I tend to stick to higher end products I don't know why but I just do. A week and a half ago however, I felt like busting a box just for the fun of opening packs. Looking at what was currently available; I decided to go for a box of 08-09 O-Pee-Chee. Truth be told, I'm glad I did…as soon as I removed the plastic wrapper from the box and opened it I was exposed to a sheer blast from the past. Looking at the plastic like pack wrappers, I felt like I had gone back to the 80s because of their traditional design. I would even say that I half expected to find a stick of gum upon opening the first one.
Description
Each card shows the picture of the player bordered by a light colored frame, the color of the line at the bottom of the card changes depending on his team's uniform main color. The team logo is also present at the front in the bottom left corner as well as the name of the athlete, the team he plays for, his position, and his number. The final product gives a rather retro effect although there are also retro parallels inserted in each pack. The background to these is of a lovely blue and they are in essence just like the O-Pee-Chee release of 1979-1980. Amongst the other parallel versions there are also Gold alternatives to the base sets and rainbow ones of the retro cards. The product is an interesting mix of the "good old days" and of contemporary releases with a fair amount of slick and shinny cards.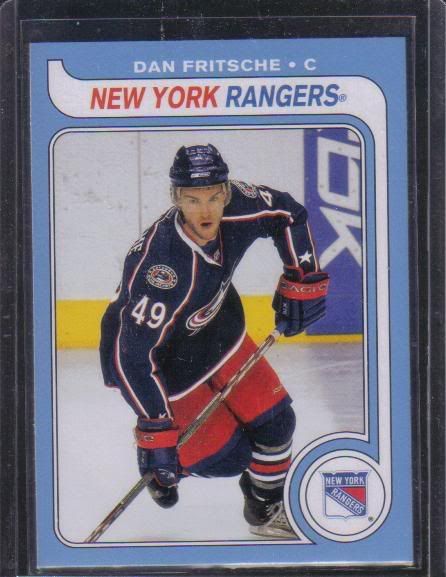 Box Details
Packs per box: 36
Cards per pack: 6
Base set: 495 cards, 5 Checklists, 60 Marquee Rookies and 39 Legends
Price: $57.99 to $63.97
Check out Upper Deck's Product Information
Checklists
Regular Cards 79-80 Vintage Variation
Wayne Gretzky Tribute – Panoramic Cards
OPC Oversized Card- TRU Blaster Exclusives
Regular Cards Retro Set Rainbow Parallels
Marquee Rookies Variation Checklist
All of the cards below were pulled during our box break which overall yielded 142 regular base cards (with 5 duplicates), 36 vintage variation (one with a blank back), 11 Gold Parallels, 1 Trophy, 7 Legends, 2 Stat Leaders, 10 Marquee Rookies, 2 Winter Classic, 1 First All-Star Team, 1 Checklist, and 3 Season Highlights.
Marque Rookies
B.J Crombeen, Jonathan Ericsson, Pascal Pelletier, Teddy Purcell, Ryan Stone, Tyler Plante, Darryl Boyce, Sami Lepisto, Claude Giroux, and Tim Ramholt.
Legends
Glen Anderson, Mike Bossy, Johnny Bower, Bernard Parent, Guy Lafleur, Peter Stastny and Patrick Roy.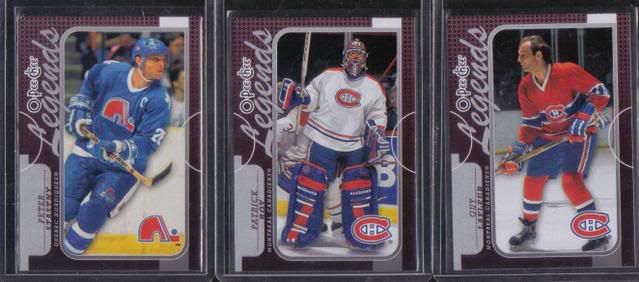 Checklist
Buffalo
Trophy
Lady Bing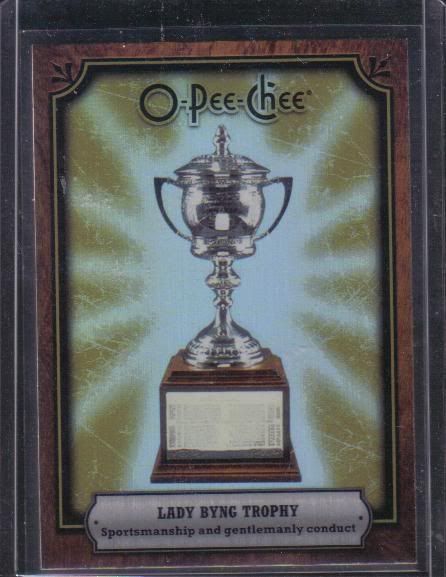 Stat Leaders
Regular Season Shutouts, Points (defenseman)
First Team All Star
Nicklas Lidstrom
Season Highlights
Alexander Ovechkin, Mats Sundin, and Jonathan Toews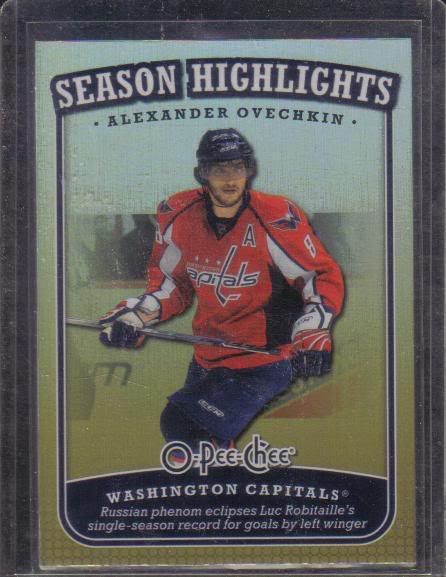 Regular Cards Gold Parallel
Straka, Franzen, Bouillon, Parent, Kennedy, Pyatt, Niskanen, Fisher, Green, Lundqvist, and Gleason.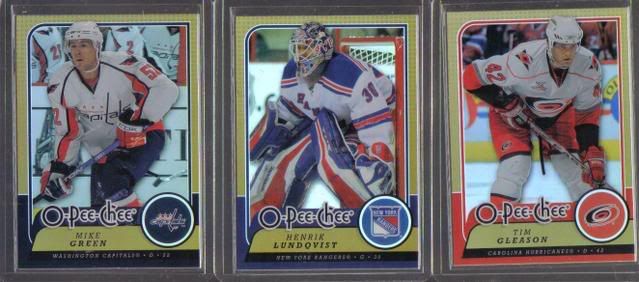 Comments
To my surprise, this turned out to be a thoroughly enjoyable break, 36 packs of pure fun. Yes, there were a lot of base cards but there were also many inserts sets to chase and I didn't even notice that I didn't get any memorabilia or autographed card. This product is definitely a must for the set chasers out there; with the 600 regular cards and all the different subsets it could however be a time consuming endeavor to get the master set. Who said time consuming isn't good though? I was also really pleased to only get 5 duplicates in the box, very good distribution.
After all the latest high end releases, it was a real breath of fresh air to get such an inexpensive and enjoyable product. If I was looking to initiate a youngster to collecting, this would be the way to go. And hey, if you just want to remember what collecting used to be about (i.e. not all about getting game used and autograph cards), it could be worth your trouble to grab a box or two. Personally, I ordered another one as I could handle another 2 hours of pure joy.
Final Ratings
Overall Design: 4.5/5
Value: 5/5
Fun: 5/5
Rebuy: 4/5
Variety: 5/5
Final Grade: 94%
This review may seem too generous to some, but keep in mind that it is not a high end release and that for the market it is aimed at, it truly hits the target. It is definitely not the product you want to invest in if all you are after is memorabilia or high end rookies but if you want to build a set, this huge release presents a considerable challenge which is nevertheless affordable compared to alternative sets.