How I Got (Back) Into Collecting
By Dwight Erickson aka Dwight
Let's travel back to summer 1989. My two sons, age 12 and 14 at the time who were living with their mother a few hours away, had come to visit for a couple of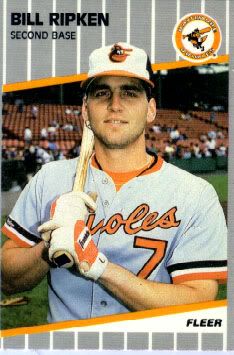 weeks after school had let out for the year. The oldest had developed a fascination, or should I dub it an "obsession", with finding either a) a Jerry Rice rookie card or b) the obscenity card version of the 1989 Fleer Billy Ripken. He already had the white box and black box versions, but his collection (as it were) would not be complete without the original. As for myself, I had a very minor league collection of a couple hundred baseball cards, including some fairly low-level rookies and stars from the late 70s and early 80s, way in the back of the closet. This collection was nothing to write home about, mind you, just some old cards in a notebook and more in a shoe box that I had virtually forgotten about. I had long since outgrown my childhood passion of buying packs of baseball cards and clothes-pinning them to the spokes of my bicycle wheel. Somehow, this handful of commons had managed to survive the expulsion of just about everything else related to my childhood days. I had moved on to the more adult, in my mind anyway, and rising sport of auto racing. Undoubtedly some of you will disagree with the "sport" aspect, but that is left for another, more lively discussion.
My oldest son convinced me to take him and his little brother to the local card shop to see if either of his quests could be met behind the counter. If not, he was more than willing to buy a few packs of '89 Fleer or '86 Topps (if they had any and with my money) and roll the dice on pulling his version of the White Whale. I truly had no interest in any sports cards at that time.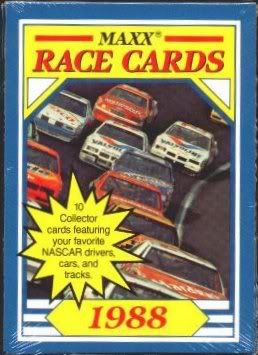 Once we arrived at the sports card shop, however, my interests in sports cards and life, as I knew it changed forever. We found an abundance of 1989 Fleer Baseball packs and boxes, as well as a box or two of 1986 Topps Football available for purchase by the pack, lining the shelves. Under the shiny glow of one of the lighted card display cabinets, we saw the top football and baseball cards all encased in hard plastic sleeves that screamed that these are the most sought after and most desirable cards under current release. Sadly, in my son's opinion, they were no Rice rookies or Ripken "dirty word" cards. Suddenly, my eyes came to rest on something I had never imagined possible. 1988 Maxx NASCAR collector cards. Yes, here was a small grouping of relatively new, little known cards by an even lesser known manufacturer, proudly shown in the display case alongside some of the greatest sports heroes of the time! Mark Martin, Dale Jarrett, Cale Yarborough, David Pearson, and my hero, Davey Allison, beside some of the best athletes of the era. The cards were very simple in design with the driver's picture on red, white, and blue cardstock on the front with minimal career information on the card back. I simply had to have a pack or two for myself in addition to the aforementioned Fleer and Topps cards.
After we got home with our booty, my two sons and I plopped down at the kitchen table and began the now familiar task of pack busting. The eldest was heartbroken that his packs produced nothing (read this no Rice and no Ripken) and the youngest couldn't really have cared less. Nonetheless, he still enjoyed the activity. For me, every pack was a new adventure. Every card was a new experience. Every pack was a journey into the unknown. Alas, I was once again hooked on sports cards. Especially sports cards of my favorite sport, auto racing. The best part, however, was spending quality time with my boys. This was a scene that was repeated many times over the next several years.
In the years since that fateful summer day in 1989, much has changed. My sons have grown up, gotten married, and had children of their own. The Rice rookie card and Ripken obscenity card have long since passed as children's fantasy, much as my own original fascination did with baseball cards when I was young. I have gotten much older myself, changed careers a time or two, and been through more of life's ups and downs. But I still have those 1988 Maxx racing cards. My 1988 Maxx set was completed many years later after I finally discovered trading cards on the Internet and that phenomenon known as eBay. My latest project is to complete a BGS set of 1988 Maxx. I have a long way to go to accomplish that goal.
I also have added over 200 more complete sets and literally thousands of cards of my favorite drivers to my collection. Base, parallel, subsets, popular, obscure, race-used, autographs all now grace my collection of well over fifty thousand racing cards. My sons have also added to their collections, although not as fervently as I have due to more pressing family obligations, and are also trying to involve their own sons in the hobby. They are still much too young to fully appreciate sports card collecting and probably will end up being more interested in Playstation and Wii than sports cards. The eldest did finally manage to find the Ripken card of his dreams and still has it. He has not added the Jerry Rice rookie however.
I can only hope that my grandsons will someday find that sports card collecting desire that my own sons managed to light under me so many years ago. For the time being though, I must be happy with my own collection, the good times I shared with my sons collecting, and satisfied in the fact that my sons share the same interest in computer games that my grandsons are beginning to show.
Even if it's not sports card collecting, it can never be a bad thing as long as dads and their sons have some common interests, right?
| | | |
| --- | --- | --- |
| | Print article | This entry was posted by Pheebs888 on August 16, 2009 at 2:41 am, and is filed under Articles Contest. Follow any responses to this post through RSS 2.0. You can skip to the end and leave a response. Pinging is currently not allowed. |