It all began with a Tweet. This tweet, to be exact:
https://twitter.com/jgorges26/status/745643629914382337
Back in late June, Buffalo Sabres defenceman (and the guy whose hockey cards I have more than 200 of) Josh Gorges announced that he was lending his support—and bringing "some of [his] buddies"— to an event in Kelowna to raise funds for a new elementary school in the community. It was going to be a 4-on-4 Street Hockey Tournament, which is a pretty natural way for Gorges and company to have a really fun time while also supporting a great cause. The event poster listed two things that caught my eye: they were holding an autograph session and they needed volunteers. I've been looking for more opportunities to make an impact in my community, so I sent an email to the event coordinators to offer my services to help in whatever way was needed.
I was hoping to work with the autograph session group—I've been working with my friends at Players Choice Sports for the past year or so helping them out with public signings for stars like Guy Lafleur, Yvan Cournoyer, and private signings with guys like current WWE Raw General Manager Mick Foley. I hoped that my experience would lend some good insights and credibility to the event, plus I believed that my friends would want to get involved and support the event as sponsors. I was thrilled when they asked me to be lead person for the autograph session. I believed that we could put together a great experience for fans, and I was anxious to learn exactly which of those "buddies" would be joining Gorges for the fundraiser.
The autograph guest list was revealed to me early in July. There were going to be six NHL players, including Gorges. Joining him would be former Habs teammate Brendan Gallagher, Brent Seabrook and Jordin Tootoo from the Chicago Blackhawks, old Rockets teammate Blake Comeau, and then-free agent Luke Schenn (who signed with the Arizona Coyotes a couple weeks later). It was a pretty good group of guys who were confirmed, and I was also told of a couple "maybes" for the signing: Gorges' good friends Carey Price and Shea Weber. As you can imagine, the prospect of running an autograph session with all of those guys was somewhat daunting but also incredibly exciting! While Weber would ultimately have to decline, we got confirmation a week ahead of the tournament that Price would attend!
I've got a lot of experience coordinating events, due to my job as well as the autograph sessions with Players Choice. The amount of behind the scenes work that goes on can often be staggering. People get to see the finished product but they don't always appreciate just how much effort it takes to get to that point. We had been working on a photo collage of the six players in attendance, and that took quite a lot of time to get the right design, the right photos of each player, including cool Photoshop efforts to get Tootoo and Schenn represented in their respective new team's uniforms. We had just gotten our printing proof when we got word that Price, as well as one other player (who ultimately no-showed the event), had confirmed that they would join the autograph session. Back to the drawing board, literally. Well, digitally. Not only that, but Price's presence there meant that there would be a lot more fans than before. That's no disrespect at all to the other players, but Carey Price is a legitimate superstar. People in Kelowna turned out in droves in July 2015 for a public signing and fundraiser held by Price to support The Breakfast Club, a program to ensure young children in elementary schools are getting proper nutrition. With our session only being for an hour, we started to worry that we might disappoint people.
The photo collage created specially for the event.
August 7
th
came around very quickly. We got the collage updated, we got the tickets printed, we were ready to roll. I showed up at 9:30am to get things ready. I was told that there had been a family waiting there since 7:30. The autograph session didn't start until noon. There's the nerves again. But as we got closer to autograph time, the explosion of people expected never really materialized. Sales were strong, all proceeds going to the school of course, and I took my place at the head of the line to welcome people to the autograph table line and ensure they stayed happy while they were waiting for their turn. The eight-player line started with Gorges to welcome people to his tournament, and concluded with Price to avoid any chances of the line getting bottlenecked. I saw a lot of friends and some family go through the line, including my sister who was so excited to meet Gallagher.
The hour literally whizzed by us. We got everybody through the line. We were smart to cut sales off at 12:45pm but we didn't have to turn away anybody who wanted an autograph. Comfortable with this, I switched spots with one of my amazing teammates, dropped my money for the charity donation and got in line. It was really cool to have those few moments with the guys. All of them were in high spirits and seemed to really appreciate the professional but very friendly atmosphere that my team helped create. The fans were all very respectful to them, and I was so grateful that they gave their time—which always has demands and is so limited, even in the off-season—for the public. I got my Habs player shirt and a Panini Anthology mega patch card signed by Gorges, a great pic of him with the Cup by Seabrook, a beautiful Winter Classic goal celebration photo by Gallagher, and my jersey signed by Price. It was such a great event, and to me this was the icing on the cake. Seeing all the happy fans, especially the kids in the line who were so excited to meet their hockey heroes, was what brought me my greatest joy that day. Getting my picture taken with Gallagher was the cherry on top of the cake.
Photo: Richard McAdam
With my main bit of responsibility done for the day, I took a short break to regroup with the team at Players Choice to quickly discuss how things went. We got through almost 150 people, which was roughly what we expected. There weren't any incidents or issues with fans being rude to the players. The players seemed to be happy. We raised a lot of money. Those were the key things. We got to show people a great time and supported a great cause. To me, that's a great feeling.
When I got back to the event, I was still on duty as a volunteer but mostly just wandered the main areas, checking in with the organizing people to see if they needed anything throughout the afternoon. I watched a few of the games being played; people were having so much fun. I'm pretty sure that most of the guys from the autograph session played in some of the games. I saw Tootoo, Gallagher, Price, and Gorges all at various points. No, Carey did not play in goal. Imagine the stories if some local kid went roof daddy on the best goalie in the world! Josh was there right until the end, and I took advantage of a brief break in the action for him to get a photo together. It's not officially summer for me until I get that photo done. He even thanked me for all my help earlier in the day! How cool is that!
After the final whistle blew, and the tournament had ended, the awards were handed out for the winning teams, and it being a community event, there were also special awards for the most sportsmanlike teams. It was cool that Josh put that emphasis out there, reflective of his character. He thanked everybody for coming out to support the new school, and expressed his hope that we will be able to do it all again next year! I sure hope so, especially if I can once again help support him with whatever initiative will benefit from his tournament. I had a blast with it, and it was awesome to be around a lot of great people in the community.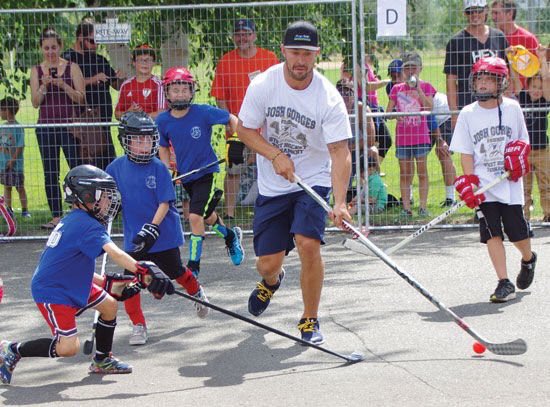 Photo Courtesy: Barb Aguiar (Twitter)