---

Older Activity

---

Welcome to SCF and to the hobby! Bake

1 replies | 49 view(s)

Welcome to SCF and back to SCF and make sure to check the site out! Bake

4 replies | 61 view(s)

Welcome to SCF and back to the hobby! Bake

3 replies | 125 view(s)

Welcome Garry to SCF and back to the hobby. Collecting with the kids and/or grandkids is really fun to do! Bake

4 replies | 68 view(s)

Welcome to SCF and enjoy your stay here, lots of good traders! Bake

10 replies | 521 view(s)

Sweet I too like watching CFL but I never know when it is going to be on like I use too! Bake

26 replies | 486 view(s)

Hey where is everybody, this is a nice lot and 11,600 RPs is cheap and beat my good friend doniceage! Bake

26 replies | 486 view(s)

Happy Birthday 50th Birthday Manthis and hope you had a good and blessed day! Bake

3 replies | 98 view(s)

Some nice hits and thanks for sharing! Bake

8 replies | 131 view(s)

Congrats @RoyalBlue25 on your selection of DK Metcalf and @key2win wins the AJ Brown Rookie Stallions Patch card. These are winners of the 2019-2020...

18 replies | 856 view(s)

11,500 Reward Points Bake

26 replies | 486 view(s)

Okay shockwiresports you win the Harry Carson Autograph! Congrats to the three winners! key2win wins the Panini Rewards Pack cardbuyer66 wins the...

51 replies | 3044 view(s)

Welcome Buck to SCF and back to the hobby! Bake

10 replies | 146 view(s)

2 replies | 142 view(s)

I have stack of Eagles cards Base only

4 replies | 159 view(s)

Very sweet break and nice hits and thanks for sharing! Bake

3 replies | 121 view(s)

Very sweet pull and an autograph and to be of Ted Williams, can't get any sweeter. Thanks for sharing! Rob

14 replies | 337 view(s)

Welcome Chris to SCF and there are a lot of Hockey fans, so check the site out! Bake

8 replies | 179 view(s)

I too am worried it will come to nothing even with the proof they may have! Bake

3 replies | 101 view(s)

2 replies | 142 view(s)

Check link for cards https://postimg.cc/gallery/1clpuetq4/

2 replies | 142 view(s)

Congrats RoyalBlue25 on your selection of DK Metcalf and key2win wins the AJ Brown Rookie Stallions Patch card. These are winners of the 2019-2020...

18 replies | 856 view(s)

Very nice stuff Rich and thanks for sharing! Bake

11 replies | 313 view(s)

Welcome to SCF and back to the hobby! Bake

10 replies | 140 view(s)
More Activity
No More Results
No Recent Activity
About tjmcb73
Basic Information
Date of Birth

October 12, 1973 (46)
About tjmcb73
Country Flag:

usa
Biography:

Why am I a cheesehead? Not only do I like the Packers, but grandparents had cheese factory for 53 yrs!!!
Interests:

Cards, cats, music
Occupation:

Wal-Mart
Favorite Players/Athletes:

Randall Cobb, Aaron Rodgers, Clay Matthews, Eddie Lacy
What sport do you collect?:

Football
Years Collecting:

25
Favorite Card:

'05 Ultimate Collection Eli/Rodgers DUAL JSY/DUAL AU 1/10
Signature
Collecting Davante Adams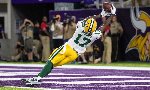 Contact
Instant Messaging
Send an Instant Message to tjmcb73 Using...
Statistics
Total Posts
Total Posts

12,324
Posts Per Day

2.41
Albums
Total Albums

5
Total Photos

94
Currency
SCF Rewards
General Information
Last Activity

Yesterday

01:39 PM
Join Date

02-28-2006
Referrals

1
Referred Members
Product Reviews & Ratings
42

Friends

Showing Friends 1 to 10 of 42
View tjmcb73's Blog
Recent Entries
Don't get me wrong...I have no issues w/anyone here. It just seems nobody wants low-end JSYS. I don't have many, so I went EBAY route.
When I get spare change, I'll snoop for some PC.

As far as base stuff...I have a pending sale of 1570 cards(just awaiting $$).
Majority of cards I have left are '90-'04.
Any '05-present are dupes.

I'll be patrolling boards for PC, but if there are certain players ur after, hit me up....never know.
by
tjmcb73
on 04-30-2010 at 12:15 AM
ENTRY FEE: $12

Money will go towards cash/prizes & reimbursement of league fees($89).

To be played out according to NFL schedule.
iTrader Profile
Recent Ratings

Past
Month
Past
6 Months
Past
12 Months
0
0
0
0
0
0
0
0
0
Recent Trades
Recent Trade List (shows last 30 days)